WooCommerce is one of the most popular and highly recommended e-commerce plugins worldwide. When we talk about WooCommerce catalog mode plugins, it is a plugin that lets you transform your WooCommerce store into a product catalog with ease.
Catalog Mode is the easy and quick solution to turn your online shop into a catalog, by removing all Add to Cart buttons and any access to checkout pages.
Benefits of using Catalog Mode Plugin:
it provides you with the opportunity to show your store differently to various customers.
You have the option of increasing appeal among your customers especially even the ones who are unregistered making them eventually sign up
Help you in creating a membership store
Lets you increase your customers' loyalty and at the same time, you do not lose visibility online.
Best WooCommerce Catalog Mode Plugin

 Easy to use
 Customize button colors to match your site style
WooCommerce Catalog is another great plugin that comes with all the basic catalog mode features that you might be looking for on your WordPress site. The plugin is responsive and designed to display your products in a sleek and easy to customize catalog format. It is very simple and easy to use.
It comes loaded with various features that make it a must-try and to get it installed. As such it has the option of hiding your Add to Cart button from Shop and Product pages which would lead to curiosity among unregistered users, hiding pricing, ratings, and reviews, and so on. Along with this it also provides you a customization option.

YITH WooCommerce Catalog Mode is one of the most popular plugins known worldwide. It is very well recognized and known for its premium and quality products.
With this plugin, you have the option to hide the 'Add to cart' and 'Pricing' buttons from the shop page, products page, checkout page, and so on. Moreover, it comes with the option of choosing to permit the catalog mode only for unregistered customers or for users from few countries.
Its features include Creating and showing a custom label/button instead of the product price to push customers to act.
Its premium version comes loaded with many more added features and functionalities which gives it an added advantage.

Are you someone who is looking to turn your WooCommerce store into catalog mode? If yes, then ELEX WooCommerce Catalog Mode is the right plugin to be used by you.
It comes with many features and functionalities making it a great choice for many users. One of its important features is that it can Customize Pricing and Add to cart buttons with text and links as per your wish.
It also provides Role-based pricing, wholesale pricing, and so on. Most importantly it encourages its users who come up as guest users to register themselves by hiding Cart and Checkout pages.

WooCommerce Catalog Enquiry is a simple-to-use plugin with many advanced features. Along with converting your store into a catalog mode, this plugin allows you to replace the add to cart or pricing button with an Inquiry form.
Further, it has features such as that it adds a custom URL to redirect the users to your sign-up page. It also lets you know about the Inquiry form which opens up in a pop-up window and you can give the inquiry form a title of your own and as per your choice.

One of the highly customizable and easy-to-use plugins comes with many features, making it a great plugin to use. It works perfectly well with any modern WordPress theme.
It comes with the feature that one has the option of placing your respective products anywhere on your WooStore both of which can be with or without price.
Further, you have the option of even changing certain elements like the color and size of the product catalog. You can use various shortcodes to display product catalogs on your site.
You can even import/Export your products with a CSV spreadsheet which makes it to be one of the most advanced plugins. Its premium version comes with many further added features.

The WooToolkit by MagnieGenie comes with lots of features, making it a great plugin to use for your WooCommerce needs. Its beta version has been released.
It comes with features such as Hide Pricing, Add to Cart, Ratings, and Reviews option, and so on. It doesn't make customers distracted by displaying 'Continue Shopping' links to your WooCommerce cart.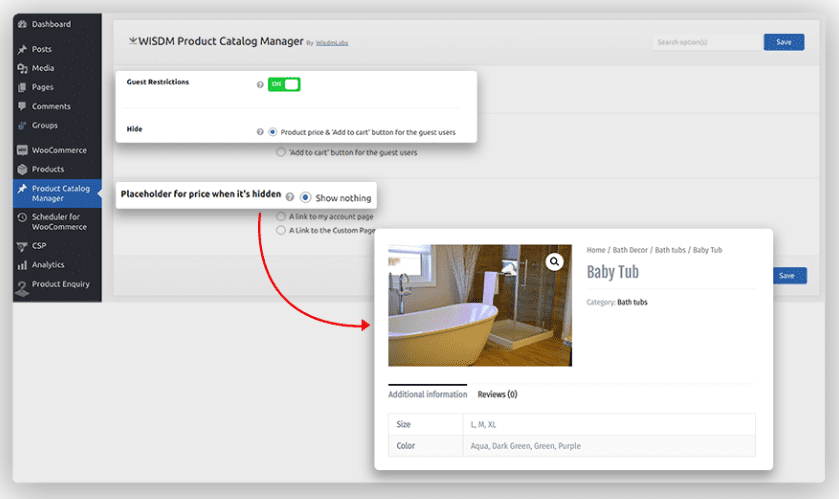 Convert your WooStore into a catalog mode or a members-only store within minutes with the WISDM Product Catalog Manager. This plugin is well versed and easy to use for both beginners as well as for professionals.
It comes with features such as that it provides the option of Hiding the Pricing and Adding to Cart button easily. Further, it Adds a link to the signup page which eventually allows various unregistered users to act.
Allow your user to download the product catalog in PDF form in your WooCommerce store.
PDF Product Catalog for WooCommerce is an easy and simple to use plugin providing you with the option of creating your PDF templates in HTML. It creates any PFD catalogs for your WooCommerce which makes it a very convenient and easy-to-use plugin.
You can include product images in the catalog and one add-on feature because it supports WPML for Multilingual stores.
Hoicker Catalog Mode For WooCommerce is one of the premium plugins but a great choice. It comes with features that make it a must-try and install it right away. Hoicker is custom CSS supported and translation ready.
It lets you restrict the product purchase functionality in catalog mode along with providing you with the option of hiding the product price. It further allows you to apply catalog mode for specific products or categories.
Conclusion
This was the list of the 9 best WooCommerce Catalog mode plugins which have been recommended.
All of these plugins mentioned above can provide a brilliant customer experience by converting your store into catalog mode with minimum effort.
Try these yourselves and experience them. Choose the one that fits your needs the best. For any suggestions or queries feel free to comment!
Please contact us on Facebook or Twitter if you have any questions or suggestions.
You may also like:
7 WordPress Email Subscription Plugins That Store Owners Love