As more and more people claim their spots on the internet, the popularity of website builders has skyrocketed in recent years. However, deciding which one to choose can be difficult.
Squarespace and WordPress are two of the most popular options for simple website building tools, as well as extensive blogging and ecommerce features. But which one WordPress vs Squarespace, should you choose?
It can be a perplexing process to choose between Squarespace and WordPress. When it comes to determining the best website builder for you, it's a good idea to do your homework.
Squarespace is best known for providing a plethora of attractive Squarespace templates, but there are plenty of great WordPress themes available as well.
Where Squarespace and WordPress diverge is in their approach to the site builder process. Squarespace's grid-style layout approach to site design is fairly straightforward. WordPress isn't as well-organized, but it's been around longer and is more established.
To assist you in determining which service is superior in the Squarespace versus WordPress battle for your needs, we've examined where each service excels. We considered how simple both services are to use, as well as the templates available and the extra features they both provide. We've also addressed the vexing issue of the distinctions between WordPress.org and WordPress.com.
WordPress.org or WordPress.com?
Why are there two WordPress websites? It's not entirely clear. Simply put, WordPress.com is the more basic and user-friendly option. It's ideal if you want to quickly set up a blog and start writing online, or if you just want to upload some photos to a website. You can sign up on the website and get started right away.
WordPress.org, on the other hand, is a more advanced option. It's not very user-friendly because you'll need to get a separate host and domain to get started (or sign up for a web host that already offers WordPress). It's far more powerful and well-suited for ecommerce and other business purposes, but you'll need to put in the effort and pick up a few new skills along the way.
Both options have advantages, but for the purposes of this comparison, we'll only look at WordPress.com because it's the most similar to Squarespace in terms of user-friendliness.
Squarespace triumphs in the following areas: design flexibility, mobile friendliness, and ecommerce tools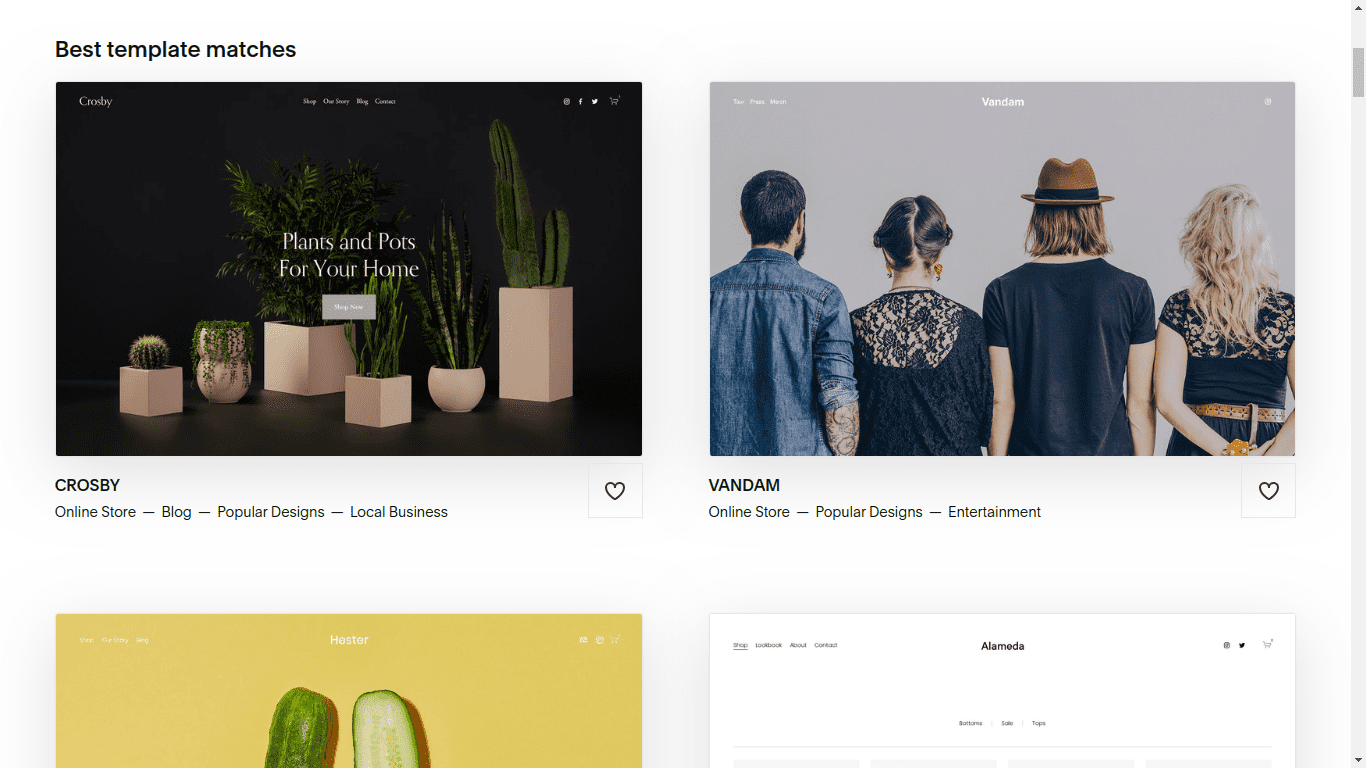 Squarespace is a site that is immediately appealing to use. While some website builders still assume you should know something about web design, Squarespace understands that not everyone is an expert. It also has that modern feel that site builders like Wix and others enjoy. It has a plethora of great looking templates, including templates aimed specifically at bloggers as well as Squarespace templates for video. Squarespace has a template for whatever you want to share online. There are hundreds to choose from, ensuring that your site stands out from the crowd.
While Squarespace is not the easiest site builder to use (that honor goes to Wix), it is still fairly simple. It doesn't require any coding skills, and all of the templates work flawlessly on mobile devices without any additional tweaking. When building your site, you simply drag and drop the various components you require. Squarespace is better suited to more visual mediums, so it's a great place to showcase your photography portfolio, blog, or simply items you've handcrafted and want to sell.
Squarespace has powerful and professional ecommerce tools that are ideal for small and medium-sized businesses if you plan to sell products. They're a little lacking for large businesses, but neither Squarespace nor WordPress are designed for large businesses without a lot of tweaking.
Squarespace places a strong emphasis on visuals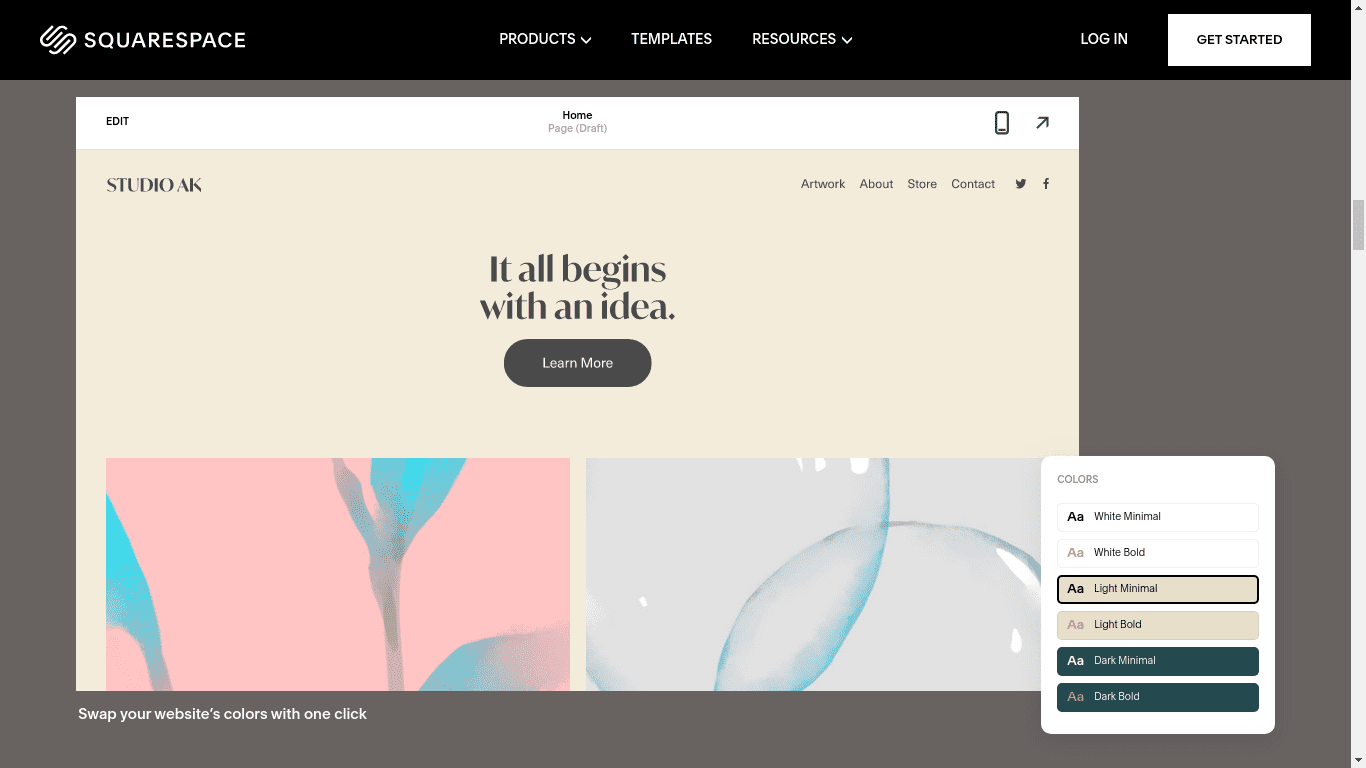 When you want to switch between templates, Squarespace makes it super simple to do so with no downtime. It's all very hands-off, so you won't have to worry about your site's inner workings. If you run into any problems, you can always contact Squarespace's chat support, as well as their extensive FAQ pages and email support, to get yourself out of a bind. Keep in mind that there is no phone support, but chances are you prefer online support anyway.
Squarespace's shortcomings include blogging and the lack of a free plan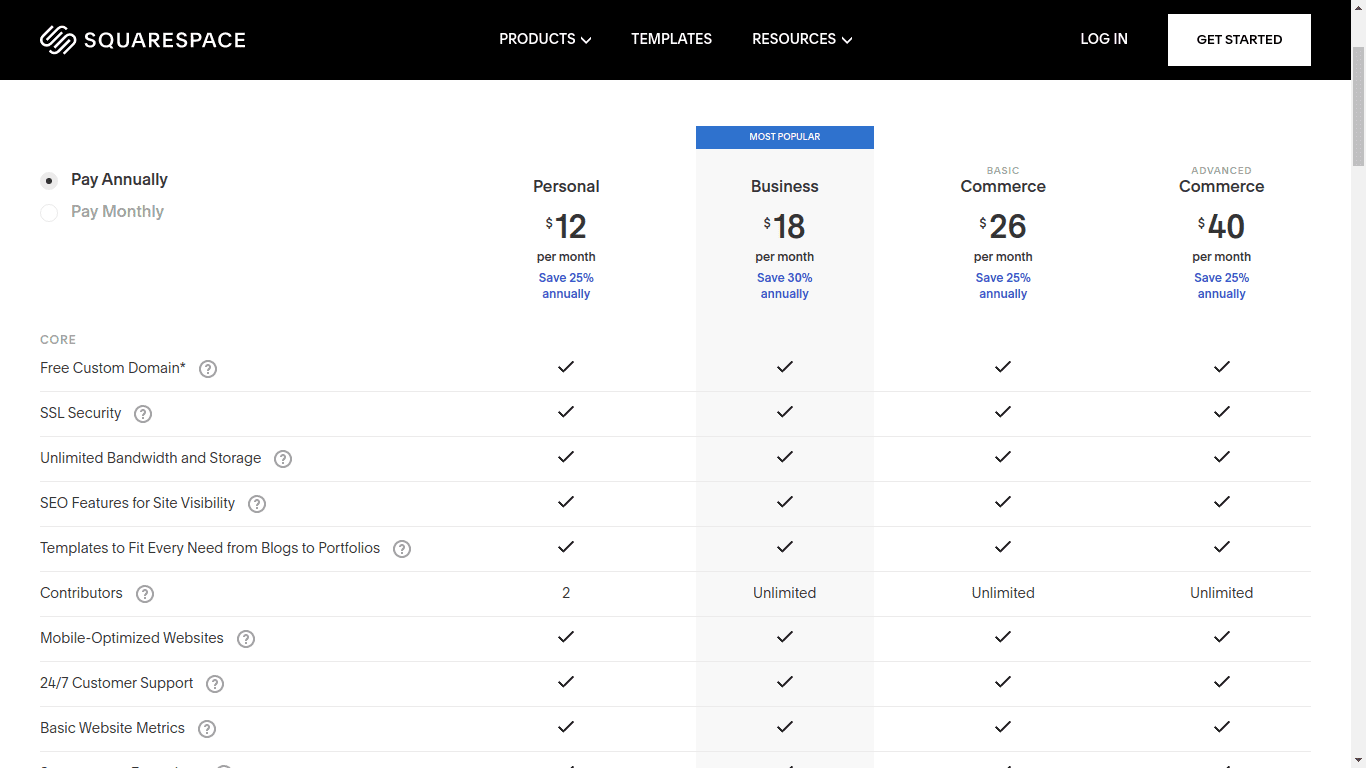 In comparison with something like Wix, Squarespace has excellent blogging tools, but it can't compare things for WordPress in its blogging arena. Because WordPress has always been the arms of choice for the blogger, which is evident. When it comes to SEO WordPress is a little smarter (Search Engine Optimization). Through its many blogging plug-ins, we feel that we are able to share social media more conveniently than with Squarespace's image-oriented nature. Squarespace uses themes which are more relevant than showing your words, using high quality photography, so this is clearly the edge of WordPress. Whether or not this is an issue depends on how you intend to use your site, and both options provide adequate SEO tools. Much of the argument boils down to personal preference.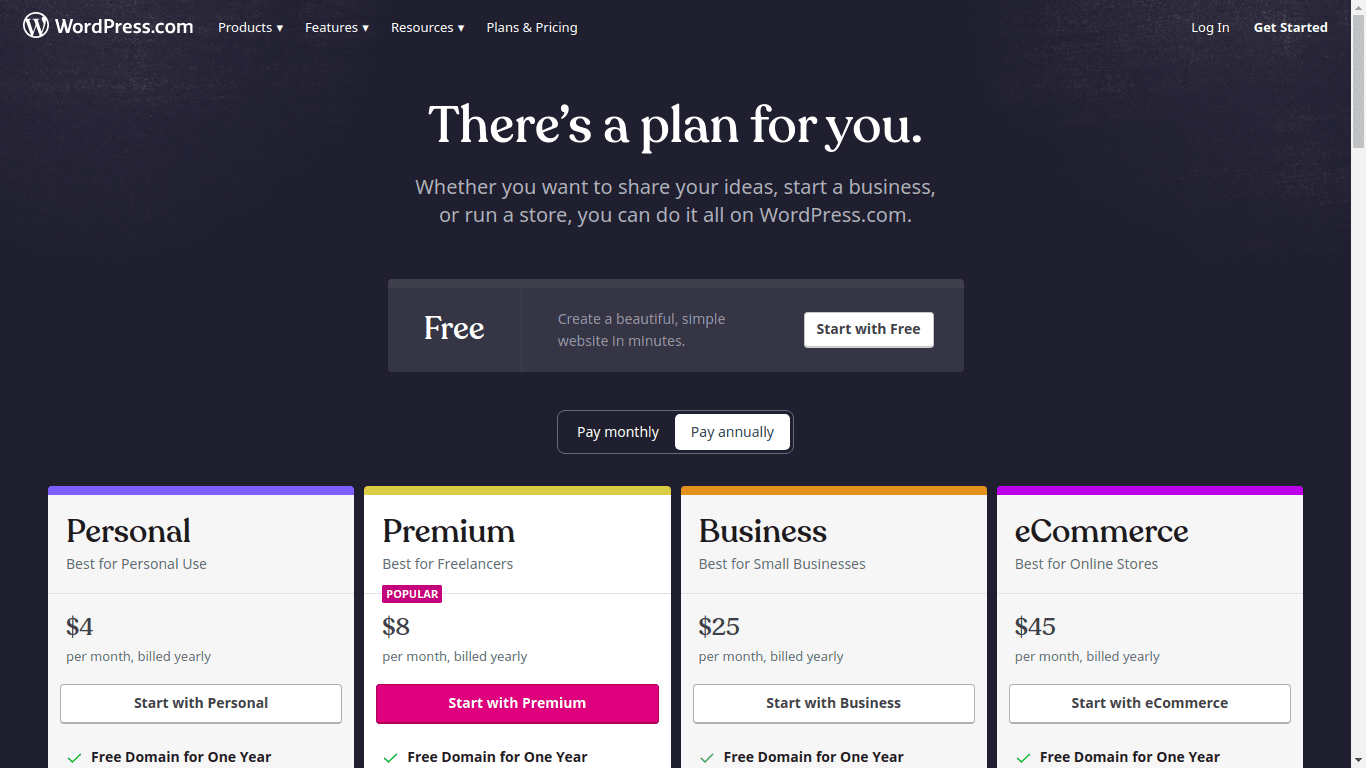 Squarespace, on the other hand, does not offer a free plan, whereas WordPress does. That means you'll have to commit to Squarespace for a period of time to see how it works. It makes sense to pay for extra features for a business or side hustle, and Squarespace has simple pricing plans ranging from $12 to $40 per month, but if you stop paying, your site will vanish. If you just want to run a personal blog for a while, that can be limiting. WordPress is a far better option in this case because you can set up your site for free before paying for any additional features you might require.
If you decide to leave Squarespace, you can export your site, but only in a WordPress-compatible format. At the very least, it means you won't have to worry about forgetting anything.
Where WordPress excels: blogging functionality, room for expansion, and comprehensive features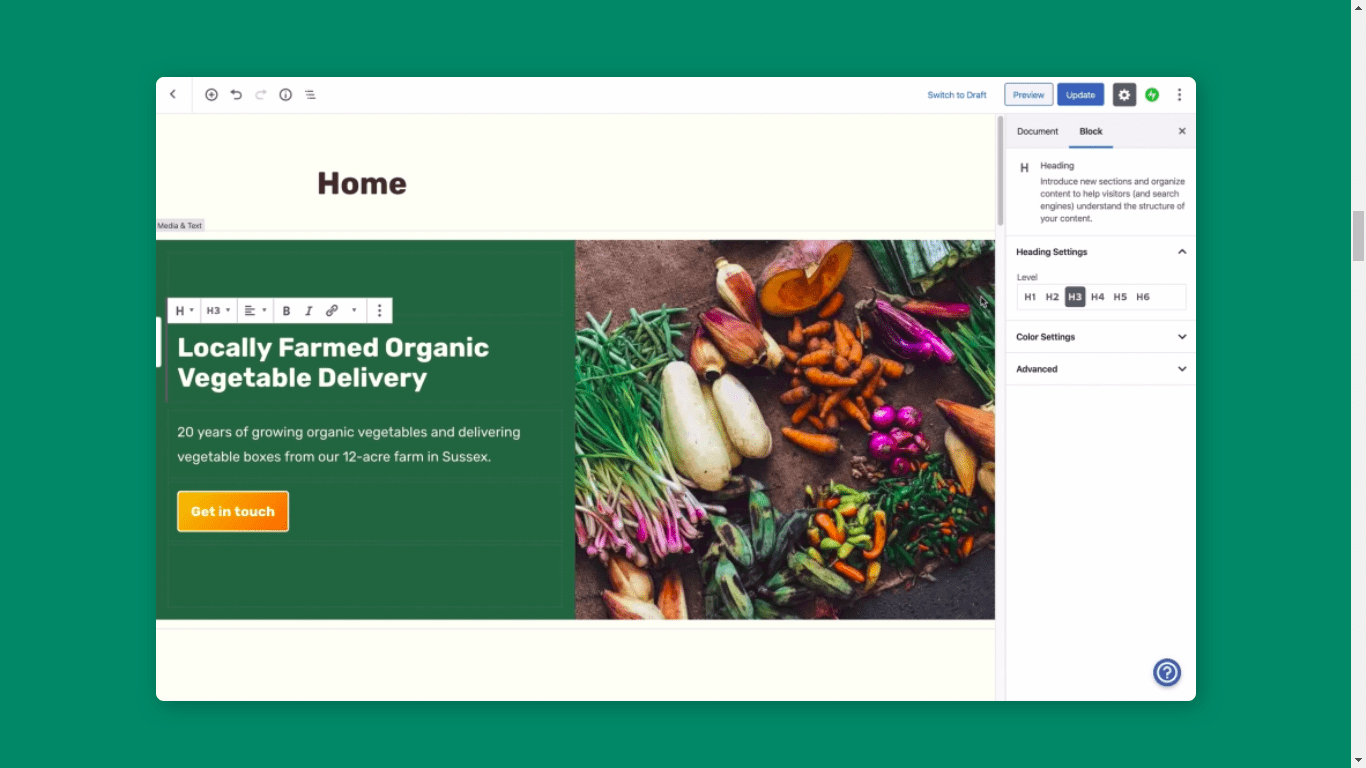 If you want to write to your heart's content, WordPress.com is the place to go. The service is designed in such a way that you can quickly create a basic site and begin blogging in just a few minutes. Writing your blog entry feels similar to using word processing software. So it's easy to get the hang of while still getting your point across. You won't have to worry about paying for anything at first unless you want to buy your domain name or unlock additional features.
According to that logic, WordPress is an excellent choice if you are unsure of your plans. It's even simple to export your content to another provider, with a variety of methods available. That means you can sign up for free, explore the site builder's layout. And then decide what to do next. Depending on your needs, you can purchase access to plug-ins as well as additional themes.
That may make WordPress appear expensive, but it all depends on what you require. At the unique domain level, WordPress is less expensive than Squarespace. Plans with a free domain for a year begin at $4 per month for a personal website and range up to $45 per month for e-commerce. (However, if you intend to use WordPress for serious e-commerce, we have some suggestions on how to proceed.)
The sheer amount of flexibility available here is beneficial, especially when determining what works best for you. The value of the e-commerce tools (unlocked through the business and e-commerce plans) is primarily determined by the goals of your company. Squarespace is a good choice if you want to sell more visual items. But WordPress is a good choice if you want to sell ebooks or other written materials.
We're also impressed by WordPress's statistics tools. Which shows you how many visitors you're getting. And what search terms are bringing them in. It's not as visually appealing as Squarespace, as is much of WordPress's backend, but it gets to the point quickly.
WordPress can appear to be a little out of date at times
Its layout appears to be very clear, but this is because it also appears to be quite tired. For a long time, the backend of WordPress has looked the same, and it lacks the visual flourish of something like Squarespace, which makes the idea of creating your website feel exciting and new.
When it comes to WordPress themes, this trend continues. Even if you stick to the free plan, there are plenty to choose from. But a trained eye can often spot a WordPress theme a mile away. And they lack the modern look of a Squarespace template. Editing them is also more difficult than editing a Squarespace design. Which is important if you're impatient or have no idea about visually creative designs. That won't be an issue if you've created a creative writing blog. But if you're trying to sell your wares or advertise your incredible photography. You'll need a site builder with templates that match your creative talents.
WordPress support is also lacking
There are extensive FAQs and even video tutorials to view. But if you want to speak with a real person, you'll need to either ask a question on the WordPress forums. Or pay for a support session with an expert who can work with you via screen share. It's an understandable move for a service, intended to be mostly free. But you might find yourself wishing for more assistance. That's the thing about WordPress: everything takes a tad bit more effort than it does with Squarespace. Which means Squarespace is far superior for true beginners.
Both Squarespace and WordPress have advantages. Both of them enable you to easily create a website with reasonably simple interfaces. Allowing you to quickly establish an online presence. Each website builder also makes it simple to set up a blog. With WordPress having a slight advantage here but Squarespace still making it simple thanks to scheduling tools and a simple layout.
Squarespace has an advantage in terms of customer support, with email support that is generally very helpful and useful. WordPress relies more on crowdsourced advice, which can be beneficial given how well-established WordPress is. It all comes down to how much assistance you require or whether you prefer to figure things out on your own.
Both are good options in general, but each has its niche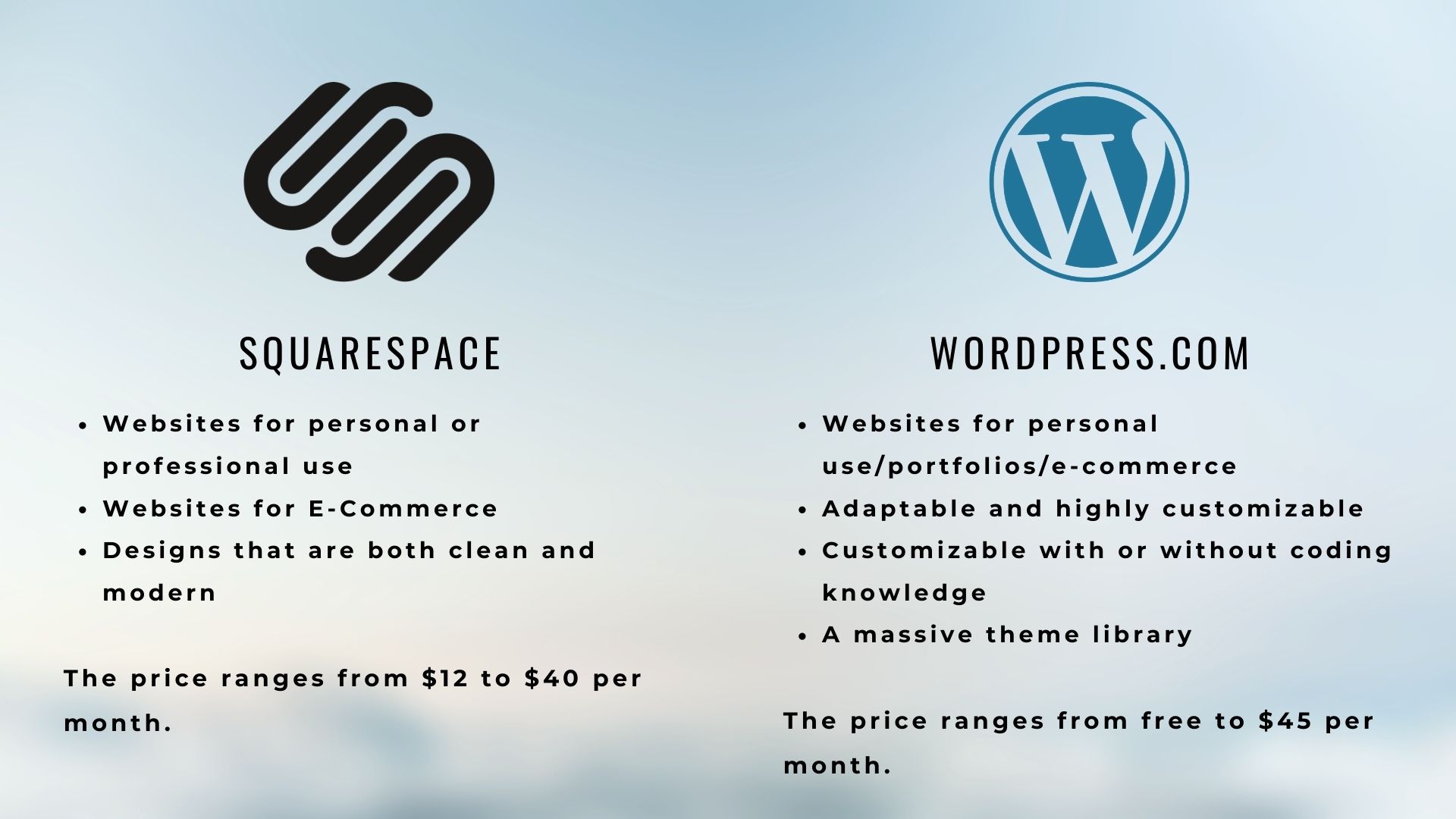 WordPress vs Squarespace, so which one to choose from these two? If you want a more visually appealing site, Squarespace is the way to go. This is the best website builder for you if you want to showcase and highlight your creative talents, such as photography or cooking. You can choose from a plethora of templates before creating your site and personalizing it by modifying the design. It also has robust e-commerce features that, while a little pricey, are incredibly simple to set up and ideal for less tech-savvy people.
WordPress, on the other hand, is the best option for blogging. It's not the most visually appealing website. But it's great for simply typing out your thoughts like using any other word processor. If you want to include more complex features, such as e-commerce. Then you'll need to get more hands-on, but the fact that you can get started with WordPress. Entirely for free makes it a tempting proposition if you're not yet sure how you want to do things. You'll also have access to what seems like an infinite number of plug-ins if you upgrade.
Both options are good, and there is some overlap in what they do well. But it is best to stick to the strengths of the respective sites — visual content for Squarespace and blogging for WordPress.
For any questions or suggestions please feel free to contact us on Facebook or Twitter.  In addition, please subscribe to our YouTube channel for plugin tutorials and guide videos.
You may also like:
5 E-Commerce Tips For Beginners to Boost Sales