Looking for the Best Pre Order plugins for your WooCommerce site? Pre Order plugins are a great way to create a pre-order on your e-commerce site. Also, it creates a buzz and helps you understand the market demand for your upcoming product.
It is one of the beneficial ways that you can include in your marketing plan. Companies like Kickstarter have shown that how it is helpful for small and medium-sized businesses.
And In this post has included the 5 Best Pre-Order Plugins for WooCommerce that you can use on your online store.
What is pre-order?
Pre-order is when you list a product on your site, which can be an idea or is coming soon (not yet available) or getting manufactured, you allow people to purchase or reserve it by paying the full or partial amount.
When the product is available, you deliver it to your customers. This makes the product unique and exclusive.
Best WooCommerce Pre-Order Plugins
Now that you have understood what pre-ordering is let's check out the pre-order plugins for your WooCommerce website.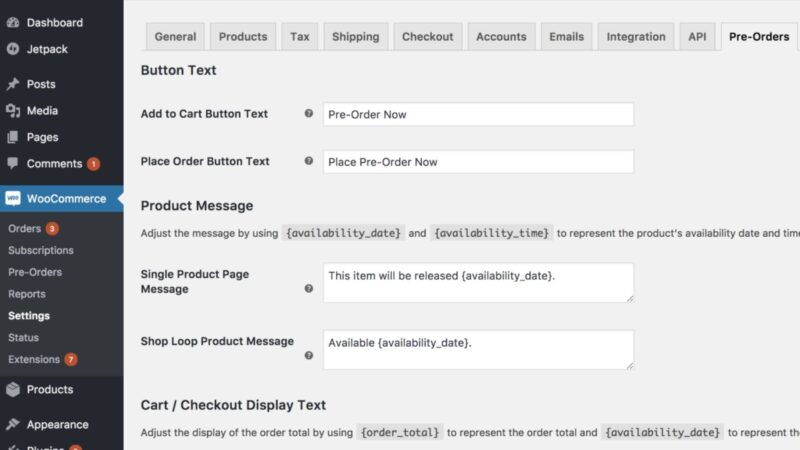 WooCommerce Pre-Orders is a plugin for creating pre-orders in your store. The plugin is developed by WooCommerce. You can release and fill orders automatically or manually when you are prepared.
The pre-order experience is completely customizable and supports all pre-orders loaded upfront and on release. If you use a sponsored payment gateway, pre-orders will be paid upon release without the consumer returning and paying for their order.
Features:
Set the optional date/time when the product will be available
Adjust the date of release for a pre-ordered product
Email all customers who have pre-ordered the product
Cancel pre-order if the product is no longer available
Filter your pre-orders with a personalized pre-order order status
Optionally charge a pre-order fee
Customize the Add to Cart/Place Order button for pre-orders
Price:
The plugin is available at $129 per year.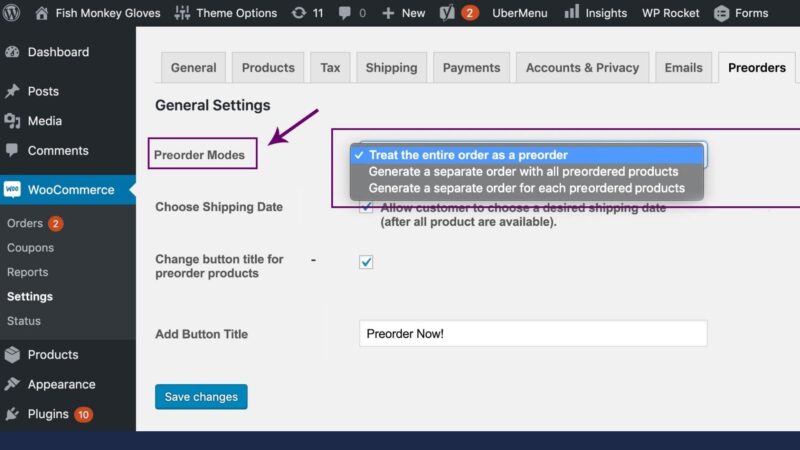 Preorders for WooCommerce from Bright Plugins is a free plugin for creating pre-orders on your site. Using this plugin you can easily manage all your pre-orders from the My Account section of the page.
The plugin easily integrates with WooCommerce, So you will not have any issues while using it. Preorders for WooCommerce are easy to customize from the setting page.
Features:
Make products automatically available as soon as the preorder period expires
Prevent customers from adding pre-order products if their carts already have items available
Create a date of expiry for preorder durations
Use a WordPress Bulk action grouped by tag or category to apply "preorder" status to more than one product
Notify website administrators when the preorder periods of products are nearing their ends, sending them a set number of days before the date by email.
Notify users when the preorder periods for products are over and they have become fully accessible.
Price:
You can use the plugin for free from the WordPress repository. It also comes with a pro version that offers 4 different business cases.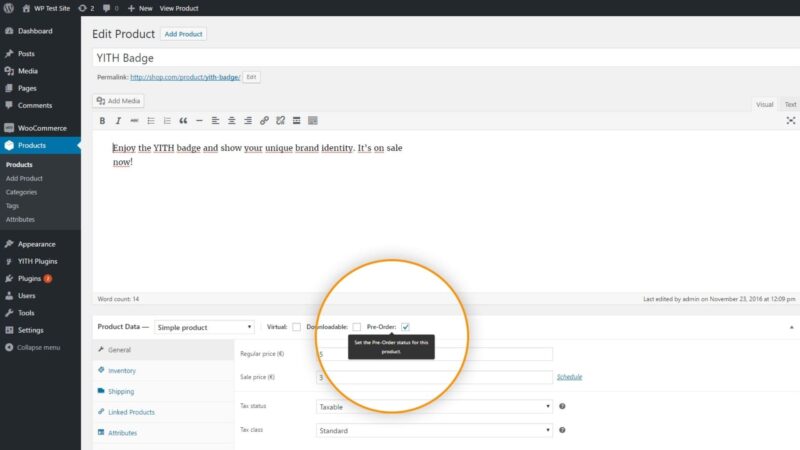 YITH Pre-Order for WooCommerce is one of the best WooCommerce plugins for pre-orders on your site. It is active on more than 9,000 active installations. The plugin also comes with a pro version which offers more advanced features.
Making the products pre-order is simple just like using any other plugin in this list. In this, you will have to mark the products which are available for pre-orders, and then customers will be able to see the pre-order button on product pages.
Features:
Mark as Pre-Order simple goods and variations
Change the text of 'Add to cart' on Pre-Order products
If a Pre-Order product is purchased, the admin will be notified
Notify customers of pre-order products that have been purchased
A list of all Pre-Order products bought can be seen by customers.
Price:
It comes with a free version and a Pro version that starts at $99 for a single site.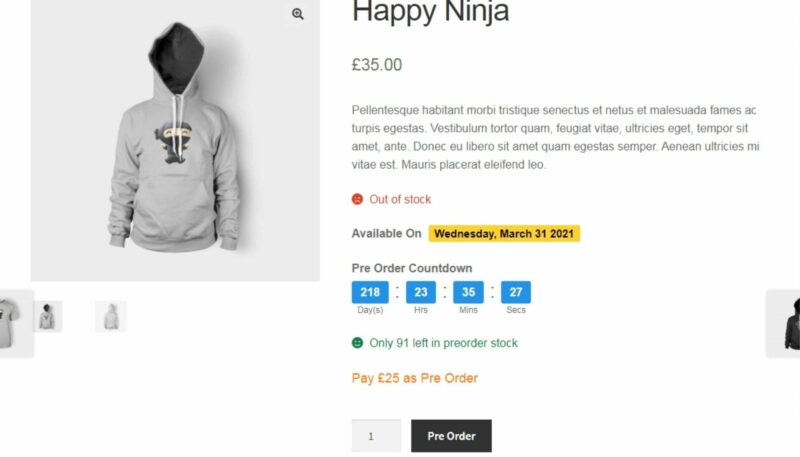 Pre Order for WordPress WooCommerce is another plugin that integrates the pre-orders feature to your site. The plugin is easy to customize and flexible. You can accept pre-orders even if you have received partial payment for them.
Using these plugins admin can understand the demand of the products and according to that manage the manufacturing. It works with every type of product like Simple, Downloadable, Virtual, Grouped, and Variable.
Features:
The partial payment feature is very useful without paying the full amount
Email notification for the customers when the product is available
The plugin creates attractive pre-order pages that look attractive
Admin can set availability date and preorder status
Along with the pre-order product, the customer can add a new product to the cart
The admin can activate/disable all customers' pre-order In-Stock reminder emails
Price:
The plugin is available in the pro version at $39.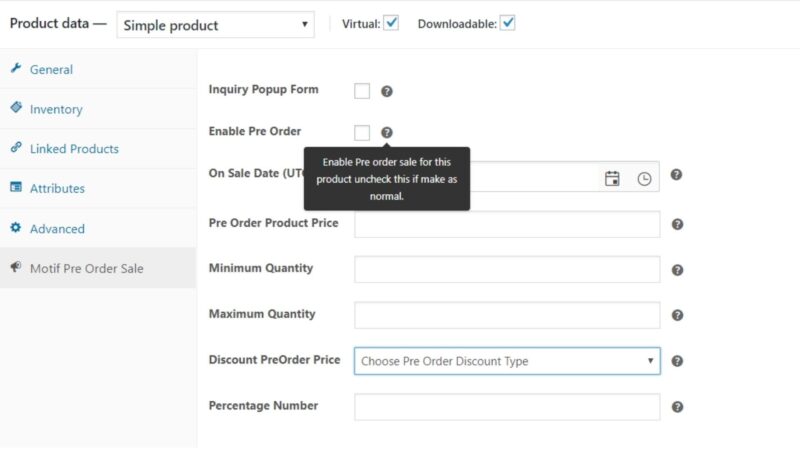 This is an interesting plugin that helps you manage your store's pre-order products effortlessly. You can set up products and services for pre-order and charge them upfront or later when the item becomes available.
It also helps you to offer special discounts on your store's pre-order products. The plugin provides a lot of options for customization and will help improve your overall sales figures and conversion rate.
Features:
Set up pre-order items at your store easily.
Option for sending pre-order emails to customers.
For pre-order products, set up custom price and price adjustments.
For pre-order products, add the minimum and maximum quantity limits.
To indicate the date of availability of the product, show a countdown timer.
Changing the pre-order status of a product automatically when it becomes available.
For inquiry forms, buttons, colors, etc. customization options
Price:
The plugin is available at $25.
Conclusion
Pre-orders a great way to boost your sales. And you should try it on your WooCommerce stores. Customers would love to try out the exclusive items, and Pre-orders certainly make it feel like.
I hope you liked the post, if you do, please like us on Facebook and follow us on Twitter for more such blog posts, tutorials, and guides. In addition, please subscribe to our YouTube channel for plugin tutorials and guide videos.