Most websites use images to showcase their products and services. Using WordPress Gallery Plugins, you can create attractive image galleries that will give your website a unique and organised look.
There are a lot of Image Gallery plugins available in WordPress plugins library. And that makes it hard to choose a single plugin. In addition, if you choose a plugin, there are chances that it may slow down your site or that you may have difficulty using it.
That's why in this blog post, I have tested and selected the Top 5 WordPress Gallery plugins which you can use on your website.
The Top 5 WordPress Gallery Plugins for 2020
Modula Image Gallery is one of the most popular and leading free WordPress Gallery plugins. It is currently active on more than 80,000 websites. The plugin is lightweight and responsive, and this is a very important feature.
It's very easy to use and you can create attractive, fully customizable image galleries using this plugin and publishing the galleries using shortcode. Moreover, it lets you add videos in your galleries, which is really a useful feature.
It comes with lots of customization options, you can choose between different gallery types, lazy load images, adjust width, height, thumbnail size of the gallery. Moreover, you can add or remove captions, social icons, effects.
All of the above features makes it a good choice for beginners as well as professional photographers, graphic designers or advanced WordPress users.
Here are some of the screenshots of the plugin
Features
Easy to use, Beginner Friendly
Responsive Galleries, perfect every screen size
Well organized and modern interface with many customization options
Drag and drop images to arrange images in the right manner
The free version comes with stylish gallery types
Social Sharing options
Price
It comes with a free version with some limitations.
If you want more advanced features like Unlimited Galleries and Images, Premium Support, Updates, Watermark, SEO Deeplink, Video, Gallery Filters, Gallery Sorting and more than you can choose any Premium Plan, Premium Plans start at $25.
NextGEN Galley is the most popular WordPress gallery plugins. It has more than 800,000 active installations.The NextGEN Gallery is suitable for photography experts and those who want to spend more to get more pro features and showcase their work.
After installing and activating the plugin, it shows you a user-friendly and modern setup wizard. That helps you with the setup process.
The free version of the plugin comes with limited galleries and those doesn't look that attractive. But you can customize its size, style, transitions, lightbox effects etc.
Here are some of the plugin screenshots
Key Features
Set up a wizard to help you set up a plugin
The free version comes with two gallery to showcase your images, i.e. Slideshow and Thumbnail.
Mobile responsive
Many customization options
You can also add watermarks and image protection
Price
You can use the plugin for free with limited features.
If you want to use more pro features, such as different Gallery Types, Image Backups, Premium Support, Extensions, etc., then you can opt for any plans, with premium plans starting at $55.
Envira Photo Gallery is another popular WordPress Gallery plugin in this list that you can check for. It has over 100,000 active installations. This plugin is also beginner-friendly and it's very easy to create galleries.
This free version comes with a lot of useful features and the interface is very simple to understand and use. You can easily import images from your computer or from your WordPress library and create an attractive gallery using the shortcode.
In addition, the plugin comes with several customization options, such as lazy loading, image size and dimensions customization, lightbox and more.
Check out some of the screenshots of the plugin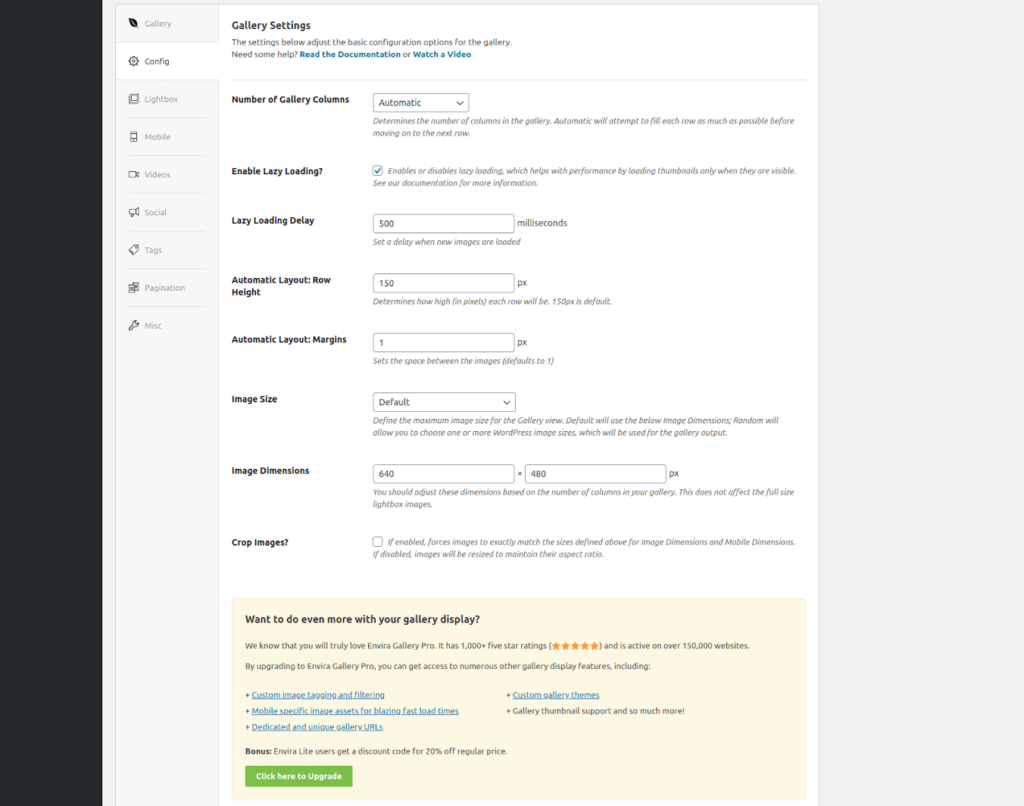 Features
Easy to use and Mobile responsive
Drag and drop images to arrange its position
Many customization options
E-Commerce support via WooCommerce
Lazy loading image option
Can add custom CSS classes to galleries
Price
It comes with a free version that gives you some basic features to get started.
However, if you want more advanced features like Unlimited Galleries, Slideshows, Image Protection, Custom CSS, Video, Premium Support, Mobile Responsive Features, Social Sharing, Tags, Updates, Integration with third party apps and more than you can go with any premium plan starting at $26.
FooGallery is another popular plugin for WordPress Gallery. Currently, it is active on more than 200,000 websites. Just like the Modula Image Gallery and the Envira Photo Gallery, this plugin with its simple interface makes it easy and fast to create galleries.
The plugin is responsive, which means that it will be perfectly visible on every screen size. It also supports lazy loading, which allows the image to load while the pointer is on the image.
You'll get 6 gallery template types in the free version of this plugin. In addition, there are many customization options available in this plugin, such as the ability to adjust thumbnail size, theme colours, border size, shadow, effects, loading icons, captions, and more.
Here are some of its screenshots
Features
Easy to set up, Beginner friendly
Drag and drop options for reordering images
Many customization options
Free version includes 6 free gallery templates
Instant gallery previews
Lazy loading options
Price
The plugin comes with a free version with some limited features.
However, if you need more advanced features such as 3 more beautiful gallery templates, video support, Media Tags or Categories, Multi-level Gallery Filter, Dynamic Galleries, Hover Effect Presets, CSS thumbnail filters (Instagram) and more than you can do with a premium plan starting at $59 / year or $6.99 / month.
Photo Gallery by 10Web is another plugin that is mostly used in WordPress. It has more than 300,000 active installations. The plugin is mobile-friendly and will be perfectly responsive to every size of the screen.
It offers a range of choices, such as Slideshow, Thumbnails, Image Browser, Masonry, Mosaic. You can customise the dimensions of each slideshow fully.
The free edition provides many other features, such as full video support, so you can create video galleries, watermarks, album support, import Instagram gallery images and more.
Screenshots from the plugin
Features
Responsive
Free Slideshow, Thumbnails gallery templates
Unlimited number of photos and videos
Many Customization options
Many add-ons available
Price
The plugin comes with free version as well as premium plans.
Premium plans provide more advanced features such as many different view options, slideshow / lightbox effects, Instagram integration, editable themes, social sharing options, premium support, and more. The premium plan will start at $30.
Bonus Plugins

WPVR – 360 Panorama And Virtual Tour Creator makes it easy to embed 360-degree panorama images on WordPress websites. It can also create a proper virtual tour and customize it using 360-degree images.
It uses panorama images as a thumbnail to showcase a gallery within the virtual tour. You can click on the thumbnails and check out each individual 360-degree image.
You can set a title to each image, and turn on or off the gallery.
If you're a real estate photographer or create virtual tours for your clients, WPVR will let you easily create virtual tours with your captured images.
Also, if you want to simply embed a 360-degree image on your site, you can do it easily with WPVR.
Screenshots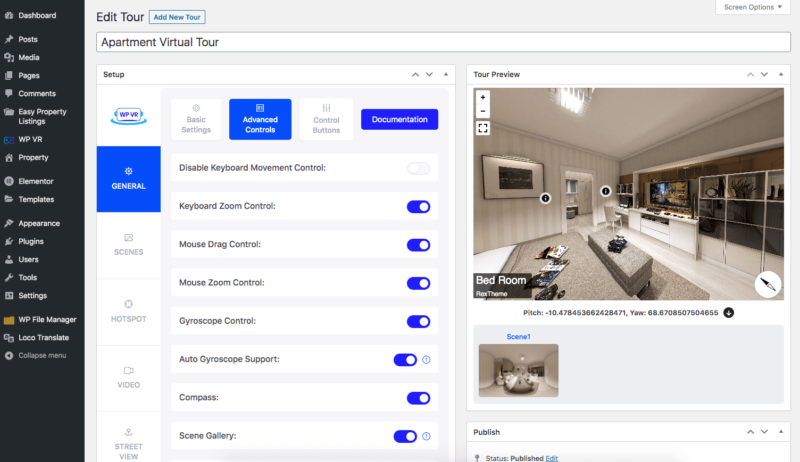 Features
Unlimited Tours
Custom Control Buttons inside the tour
Custom Hotspots to Show information like Images, Texts, and Videos
Gyroscope support
Responsive Scene Gallery
Background Music
WooCommerce and Contact Form support
Company Logo and Description
Price
WPVR comes with a free plugin with the basic features to get started with.
However, if you want advanced features like custom control buttons, custom hotspots, scene gallery, and WooCommerce product support to create professional tours, the pro plans start from $59.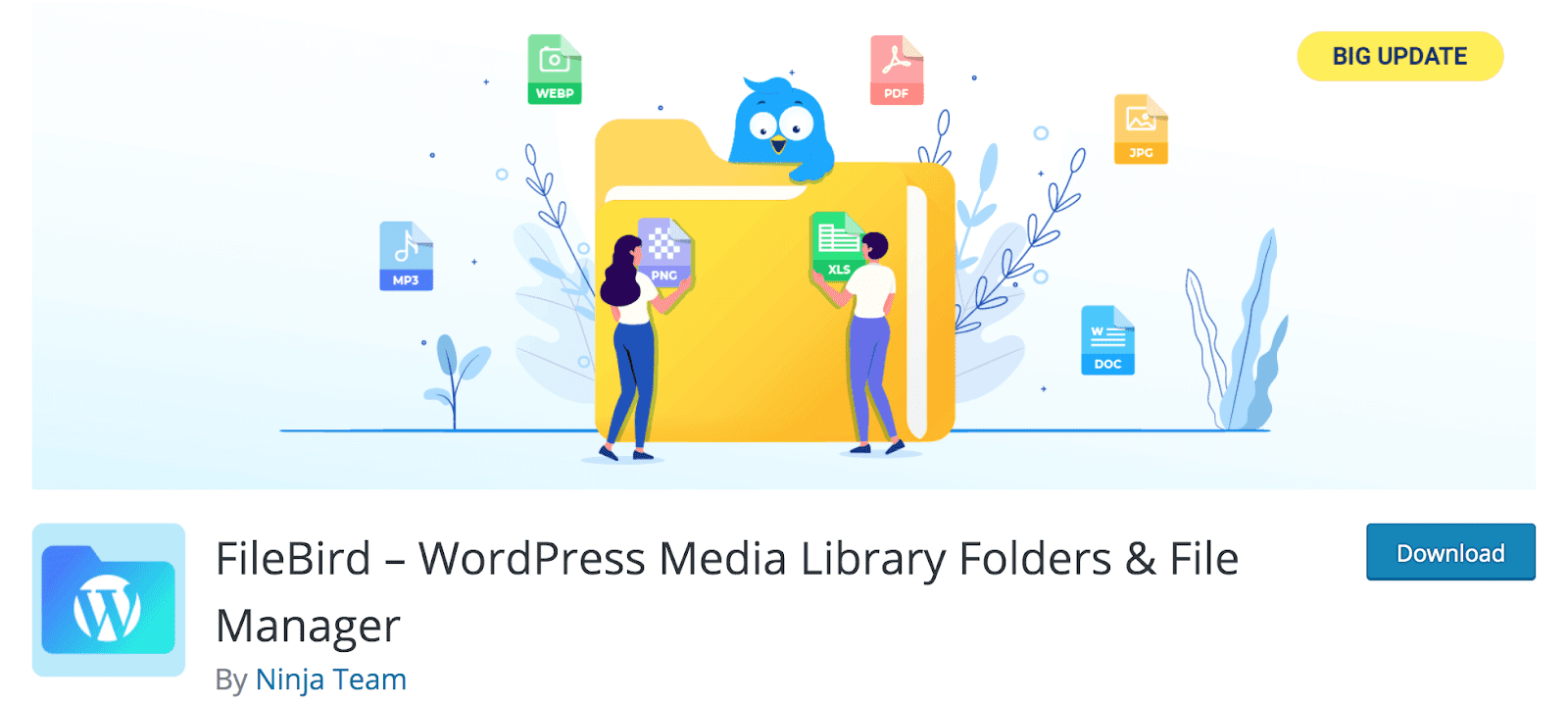 Organizing WordPress media library is a must if you want to have an easier time finding your files and images among 10,000 items or more.
The problem with the default WordPress media library is that it puts your images in year and month order. If you need to find a bunch of images for your gallery, going through your media library is time-consuming, not to mention that you need to remember the image name.
FileBird will help you do that quickly with minimum effort. It adds a nice folder tree inside your media library so you can drag and drop to organize all files.
With premium features like Download folder, you can download any image gallery in a ZIP file. On top of that, it retains the same folder structure to save in your computer or cloud services. Therefore, it is super easy to keep a media backup to migrate, reuse, or upload to different websites.
To insert an image gallery to your page/post, you only need to choose a folder to add in that FileBird Gallery block. You also have various options including:
omit specific images,
edit columns,
crop images,
enable caption,
and most importantly, auto-update the gallery when you add new files to the folder.
Each user, i.e. admin, editor, page/post author can create their own set of media gallery management without intervening in other users' setup.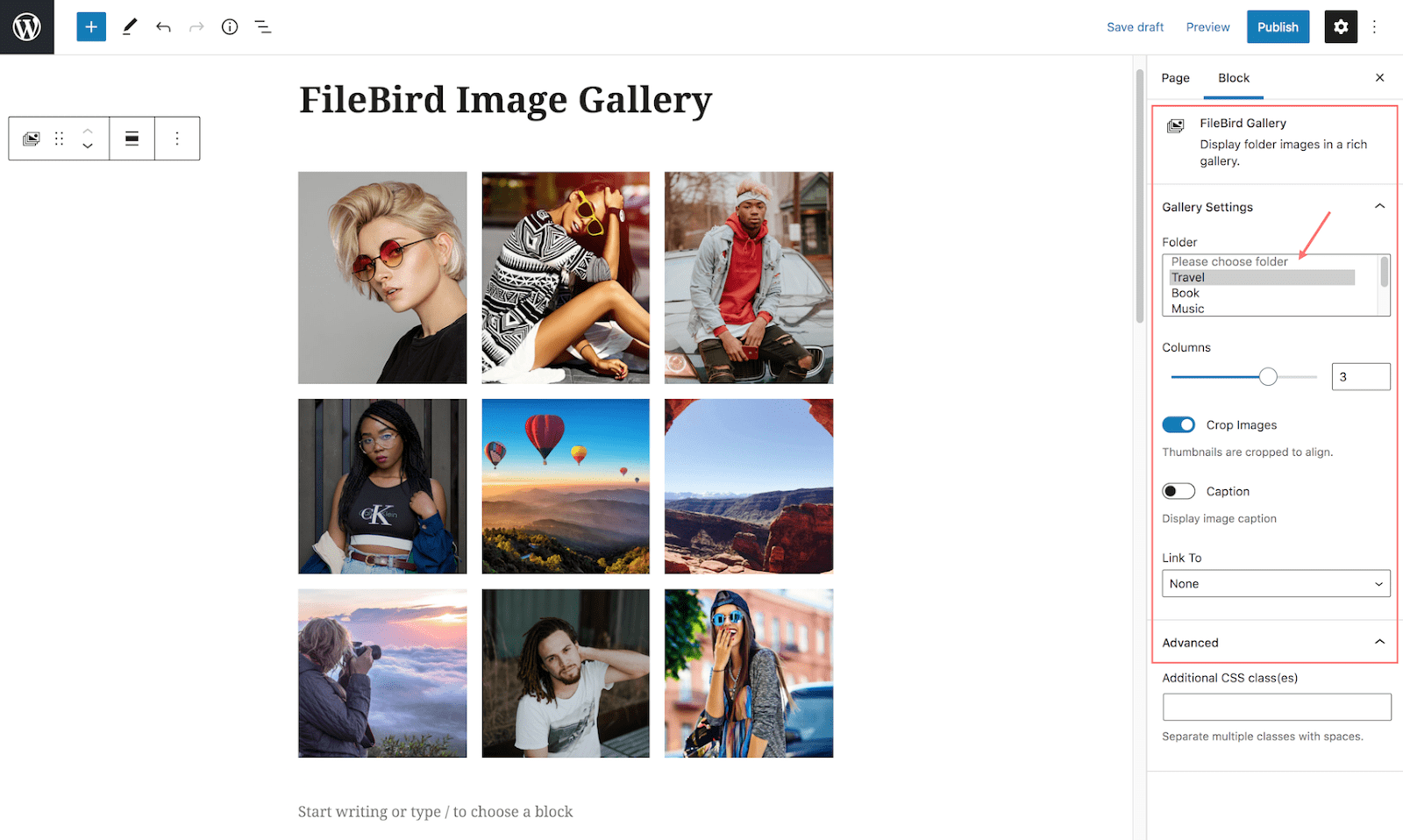 In addition to image gallery, FileBird also supports Document gallery. It comes with a shortcode to help display a document gallery with auto-generated thumbnails for the file types. On the front-end, the multiple file format gallery becomes more appealing like this.
FileBird Features
Drag and drop interface
Great design in native WP dashboard
Compatible with all themes and page builders
Right-click to interact with folders
Advanced sort functions (Pro)
Price
While the FileBird lite version is available on the WordPress repo, the premium version on Codecanyon costs $25 with fast support & frequently updated features. In addition, try the FileBird DEMO to make sure this is the kind of media gallery organizer you're looking for.
The one you can pick
We have covered the top 5 WordPress gallery plugins and saw their features and prices. And the thing is you will use just one of them. So, choosing the best plugin is important.
If you are looking for a plugin that is easy to use, offers beginner to advanced level features, and you can use it to create attractive image galleries, you can go with Modula Image Gallery or Envira Photo Gallery. If you want to start with a free version, then also Modula has a good features list that you can start using.
Let me know your thoughts on this, which plugin you're going to use, and why.
You may also like:
7 Best WordPress Free Booking Plugins