Users are always looking for discounts, coupons, and offers. Discounts are an effective way to attract traffic and making conversions. Discounts can help push new users to make their first purchase from your site. Even if your site is new to them. If you fail to add discount options to your store then you may miss a lot of conversion opportunities.
When you use the most popular CMS platform in the world and the popular e-commerce platform i.e. WooCommerce, together. You get a lot of customization options to create and provide discounts to your website visitors.
In this post, we're going to discuss various types of WooCommerce Discount Plugins, that you can use on your site. These plugins will help increase user engagements, bring new customers, and boost sales on your site.
Before we dive into the list of plugins, let us know the advantages of offering discount coupons on your site.
Advantages of offering discounts on your site
Everyone loves discounts. Discounts are a great way for everyone to use and save money. And that money can be utilized for anything else. People like to spend wisely and save where they can. So, discount offers to help them to do that. People appreciate getting discounts and it also makes them happy and builds trust.
Due to the COVID-19 pandemic, many people are shopping online. So as the owner of the E-Commerce website, it's a chance for you to get more and more traffic to your store and try to get the best conversion rates by offering them good discounts. This way you can attract new customers, and bring back past customers as well. It will build a long-term relationship with your customers.
Increases traffic to your website
Attracts new customers and also helps with customer retention
Create discounts on unpopular or old items to clear stocks and make space for new items
Make your customers happy and build trust
These were some of the benefits of offering discounts that could help you get them. Now let's check out the best discount plugins for your WooCommerce store. These WooCommerce Discount plugins offer a variety of features and benefits, and we'll list them all.
The Best Discount Plugins for WooCommerce


WooCommerce MailChimp Newsletter Discount is a useful WordPress discount plugin. Using the free version of this plugin you can create discount newsletters forms and integrate those forms into your pages, posts and sidebars using the shortcode.
When visitors fill in and submit a newsletter form, the plugin will automatically send a discount coupon to their mailbox. You don't need to create your MailChimp list. Also, your email address will be synced to your MailChimp list. No matter how many signups you make on your form, this plugin will automatically increase your subscribers and your conversion opportunities.
In addition, you get options to customize your display fields, look and feel, CTA button of your forms, configure MailChimp, customize the discount type, discount value. Moreover, you can also choose the products, products categories, minimum purchase amount where the discount can be applied.
The pro version adds more features to it.
You can use it as a Normal Newsletter Form
Double opt-in feature
Know the signup source
Enable Popup form
Exit intent popup,
Control over more coupon settings
More customization options for the popup and email
Enable desktop notifications and analytics.
Another version of this plugin is available for SendInBlue users. You can check WooCommerce SendinBlue Discount for more details.
The Pro version of the WooCommerce MailChimp Newsletter Discount plugin supports Extra Fields For MailChimp Newsletter Discount add-on. Using this add-on you can simply add any texts, radio, date picker, and many more fields to your newsletter, or discount forms to collect more user data and sync to your MailChimp list.

WooCommerce Coupon By Roles is an add-on for WooCommerce. This add-on is quite useful and very easy to use. It simply adds an option called 'Allowed Roles' in each coupon's Usage restriction section.
You can choose from the roles available, and Save or Update the changes. From this option, the admin can easily set a single role or multiple roles for the coupon. And the plugin does the job. It only allows the roles selected to use the coupon. Users with other roles will not be allowed to use.
Use this plugin when you want to give discount coupons only to people with a certain role(s). Like if you have segmented some users and created a repeated customer role then they can only use the coupons.


Another useful plugin on our list for WooCommerce stores is Finale Lite – Sales Countdown Timer & Discount for WooCommerce. Using this plugin you can create inducing promotional campaigns that trigger urgency and scarcity among your customers and visitors and help to increase sales.
It provides many options for discount campaigns to choose from, such as flash sales, seasonal promotions, coupon code-led discounts, pre-launch offers, daily deals, quicker delivery deadline campaigns, instant discounts, early-bird deals, recurring offers, and more.
It comes with a pro version that offers more features such as
Run store-wide recurring flash sales or only on certain products/product category
Automate your regular weekend offers on chosen products
Spotlight special campaigns such as Christmas/ Black Friday/Mother's Day etc. through sticky headers/footers
Use Shortcodes to embed countdown timers on popups, landing pages, blog posts, and sidebars
4. WooCommerce Multiple Order Discount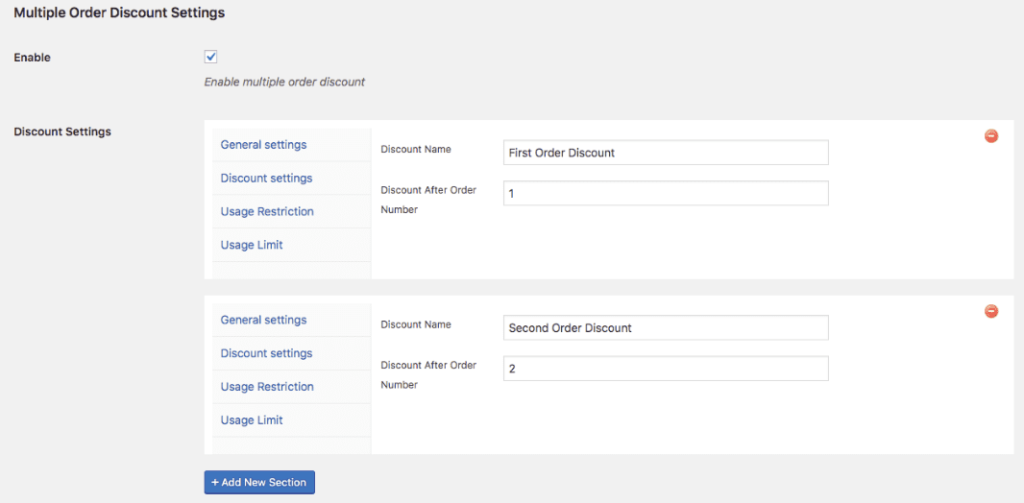 WooCommerce Multiple Order Discount is a simple but powerful WooCommerce add-on that enables store owners to create discount coupons from a single window for each order. With such plugins, it's easier to promote these types of deals and getting more orders.
This plugin provides all the options such as discount type, value, coupon validity, and more to easily create single or multiple coupons. All you have to do is mention the order number that the coupon will be generated for. Once the user orders that number, the plugin simply creates the coupon according to the settings and sends it to the email address of the user.


Conditional Discounts for WooCommerce is a great plugin that offers so many types of discounts for your WooCommerce store. While it offers many discount types, it can be overwhelming for some of the users. The layout is simple and easy to use.
It allows your to create bulk discounts, category/tag/meta discount, Quantity based discounts, Discounts based on products categories.
The pro version of this plugin offers more discount options such as buy one get one free, affiliate discount, specific user discount, user role discount, group-based discounts, shipping country-based discounts, and many more.
With so many discount options, it can be an all-in-one plugin for all your discount needs.


This WooCommerce coupon plugin adds many advanced coupon features to the default WooCommerce coupons and lets you offer attractive deals and discounts for your shoppers.
Once its auto-coupon apply option is enabled, coupons will be automatically applied for all eligible customers. This lets you offer a great customer experience by eliminating the need to copy-paste the coupon code manually.
With the plugin, you can offer to give away and URL coupons and set the coupon to start dates to create coupon campaigns. Coupon restrictions can be applied on the basis of shipping methods, payment methods, user roles, product quantity, subtotal, and more.
Smart Coupons for WooCommerce premium version supports the given list of features.
Purchase history-based discounts
Coupon restriction by country
Store Credit/Gift cards
Count-down discount sales banner
Sign up coupons
Cart abandonment coupons
Bulk generate coupons


Dynamic Pricing With Discount Rules for WooCommerce is another handy discount plugin for WooCommerce. It helps to quickly create and apply bulk discounts to WooCommerce products. The interface looks better and easy to configure the plugin.
Using this plugin you can add new pricing or discount rules. It offers a long list of discount types such as percentage/fixed price discounts, discounts based on product price, cart total, number of items on the cart, the number of products, and many more.
Moreover, you can create various rules-based discounts, a pricing table on the product page, exclude selected products from discounts, and many more options. Dynamic Pricing With Discount Rules for the WooCommerce plugin is worth checking out.


Discount Rules of WooCommerce is the most popular WooCommerce discount plugin on this list. It can help you create any type of bulk discounts, dynamic pricing, advanced discounts, percentage discounts, product-based discounts, tiered discounts for your products.
The free version offers
Percentage based discounts
Store-wide global discount
Order total based discount
Quantity range based tiered pricing percentage discount
Cart based percentage discount
Exclude selected products from discount rules
Date based discount
Show discount table on product pages
This plugin is easy to use and gives you all the options to start with. If you still need more features you can always opt-in for the pro version. The plugin will help you get all the attention you need from the visitors and help you get more conversions.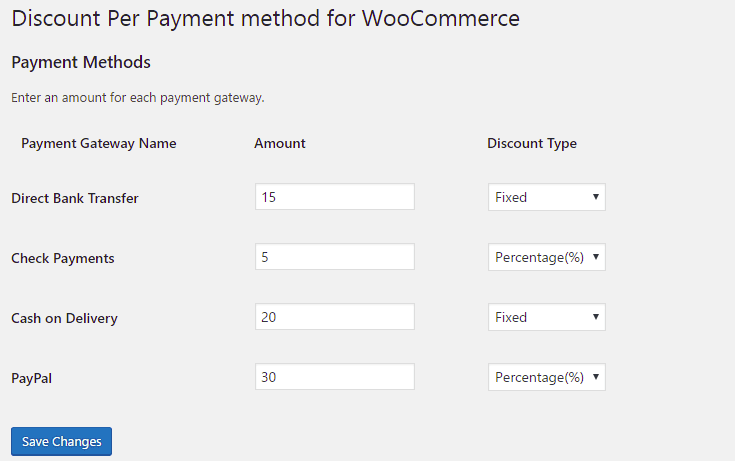 Discounts Per Payment Method for WooCommerce works differently to provide discounts to your websites visitors. Using this plugin you can set up discounts for specific payment methods.
You just need to set the amount and discount type from the settings page for a specific payment method. And whenever someone chooses that payment method, the discount will be applied. You can also choose different discount types such as fixed, percentage, etc.


First Order Discount Woocommerce, as the name suggests using this plugin you can offer discounts to your customers on their first order. You can also apply various conditions like the minimum amount they need to spend to get a discount or whether users can use multiple coupons together.
It also comes with a pro version that offers more features.
Bonus Plugin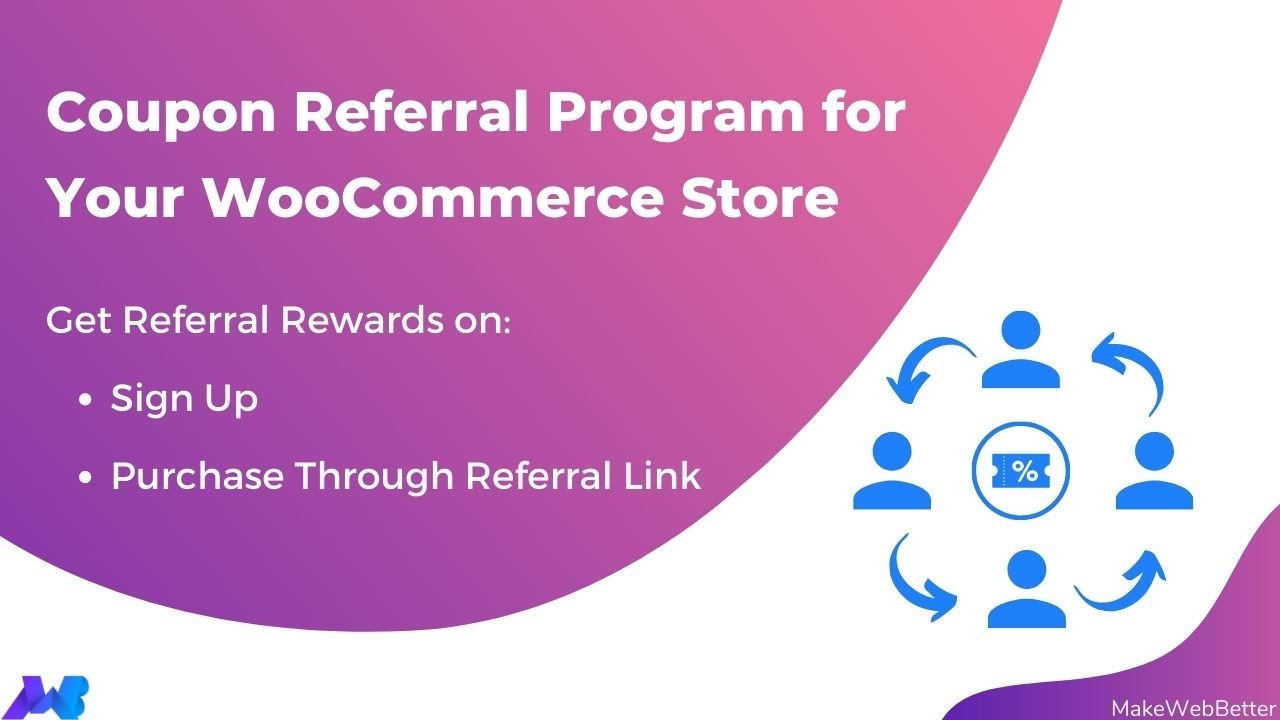 Coupon Referral Program is the most popular WooCommerce extension offering referral marketing with coupons support. The coupon referral program set up with this plugin rewards the referrer and referred customers with discount coupons upon completing the required actions or meeting certain goals(as decided by the admin). The required actions and rules can be set by the admin like allowing discount coupons on sharing the referral links, signup, and sales through referrals.
This coupon referral plugin enables customers to share the referral link on social networking sites like Facebook, Twitter, etc., and also through emails. Admin can customize the referral button accordingly using the predefined options or by applying custom CSS.
Key Features
Provide discount coupons to customers when their referrals make a purchase
Sign-up discount coupons for all types of customers
Set expiry date for discount coupons
Details discount coupons report for easy monitoring of coupon transactions
Customers can pay their subscription bills using Discount coupons
Admin can limit the discount coupon application based on minimum/maximum amount spent by the customer, etc.
Conclusion
I've listed some of the best discount plugins for the stores in WooCommerce. You can choose any plugin for your convenience. The list includes plugins such as Discount Rules for WooCommerce and Conditional Discounts for WooCommerce. Which offers so many discount options for a single plugin. Such plugins are great, but for beginners, it can be a bit overwhelming for the setup part with so many options.
Beginners can start with plugins such as WooCommerce MailChimp Newsletter Discount, Discounts Per Payment Method for WooCommerce, WooCommerce Coupon By Roles that offer minimal features that are perfect for beginners and even professionals, if you don't need many features then choosing a lightweight option is best for your store. All of these plugins can help you give discounts to your customers, visitors and help your business grow.