Want to offer discount coupons by user roles in your WooCommerce store? With this feature only the selected user role(s) wil be able to use the coupon code. The role based discounts are a great way to offer coupons to your loyal customers or a specific group of people.
Moreover, customers feel special when they get special discount coupons created specifically for them. For e-commerce stores offering personalized experience helps them retain customers and build a long-term, loyal relationship.
There are so many plugins available to help you setup discounts based on user roles for WooCommerce. That's why I have created this post to help you find out the right plugin for your site. The plugin is quick to set up and super easy to use.
What are user roles in WordPress?
Before we look, learn more about the plugin, learn what are user roles? WooCommerce uses a standard WordPress 'Roles' system that allows the site owner to control what users can do.
For example, users with roles 'Customers' can check their previous orders, add/change their addresses and so on.
Moreover, WooCommerce adds two new user roles by default: Customer and Shop Manager. Users with 'Shop Manager' roles can manage WooCommerce products, check WooCommerce reports and so on.
Now let's learn more about the WooCommerce Coupon By Roles plugin. Using which you can offer discounts based on their roles.
WooCommerce Coupon By Roles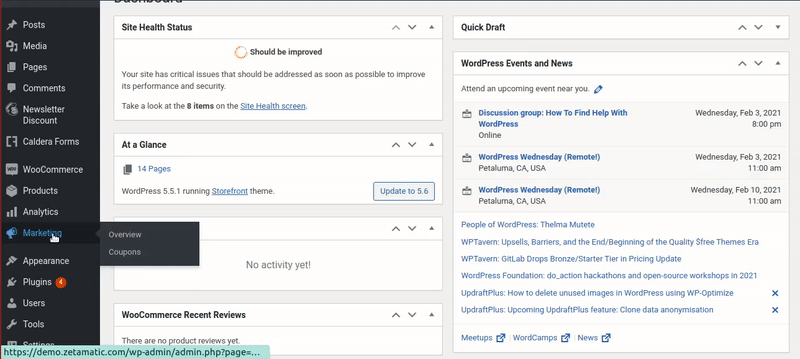 WooCommerce Coupon By Roles is a powerful plugin that extends the core functionality of WooCommerce coupons. The plugin adds Allowed Roles and Allowed Countries options in the User restriction section when you try to add a new coupon or edit an existing coupon.
Installation and Setup
Go to the plugin shop page and make the purchase
Once you have completed the purchase, you will be able to download the Zip file of the plugin
Then return to your WordPress dashboard and go to the plugin section
In the plugin section, click on Add New then on the next page, click on the Upload Plugin button. After that upload the zip file and then click on Activate Now.
Then go to the Settings page of the WooCommerce Coupon by Roles plugin and you will see something like the following image. (You can also access this page by going to the WooCommerce > Settings page.)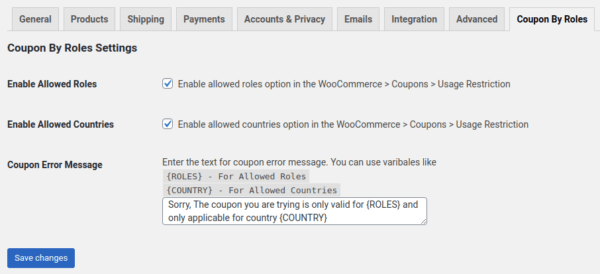 Here you can enable/disable the Allowed Roles and Allowed Countries features. Check the boxes and click on the Save Changes button to enable the features.
Next, go to the Marketing > Coupons and then Add a new coupon or select an existing coupon. On the next step, go to the User restriction page and on the bottom of that section you can see the Allowed Roles and Allowed Countries fields.
Allowed Roles: When the field is empty then the coupon can be used by anyone. And when you click on the field and choose any one role or more then the discount coupon will be applicable to those roles only.
Similarly, Allowed Countries: Choose the countries, from where users of those countries are allowed to use the discount coupons. If you leave it blank then the coupon is applicable from anywhere in the world.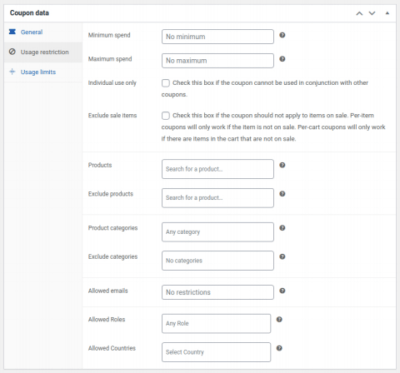 Benefits
Offer different discount coupons for different users (Guest, New Customers, Returning Customers, Staffs, Wholesale Buyers)
Only users with the same role can apply the discount, else the discount will not be applicable
Form and maintain long-term relationship with customers
You can choose various user roles such as Shop Manager, Guest, Customer, Subscribers, Authors and more.
How does it work?
If a discount coupon has specified user roles then the coupon code will only work for those roles only.
For example, If you have chosen the 'Customer' role in a discount coupon.

Then only the registered users with the roles 'Customer' can apply the code. As you can see the image below.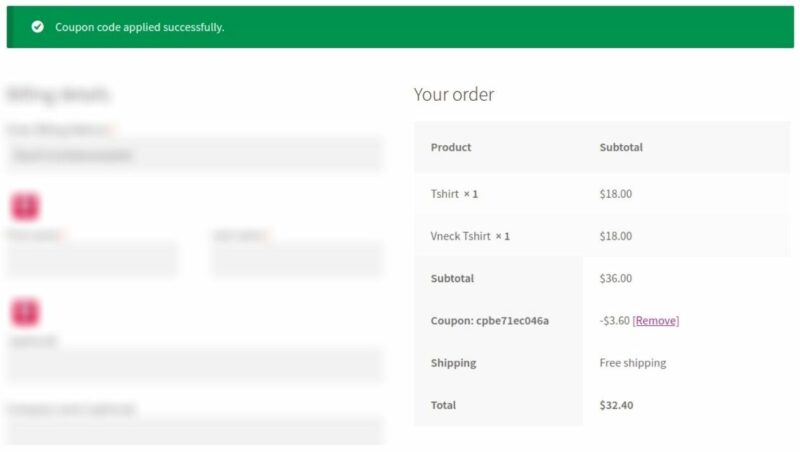 If anyone else with other roles than 'Customer' try to apply the code then an error will be displayed. You can change the error text in the plugin settings.

Conclusion
I hope you found this post useful, if you have any questions or suggestions please feel free to contact us on Facebook or Twitter. Also, follow us on those channels and stay tuned for more exciting and useful contents. In addition, please subscribe to our YouTube channel for plugin tutorial and guide videos.
You may also like:
10 Best Discount Plugins for WooCommerce