There are many great WordPress plugins you can use to add schema markup to your site's pages. But many of them are paid plugins, and others just don't seem to work as well as they should, or as described.
This list of the best free schema plugins for WordPress includes some of our favorites. And also some new ones which haven't seen as much usage or recognition but still deserve attention.
Each of these 8 plugins has its own strengths and weaknesses. So it's up to you to decide which one or ones will suit your purposes the best.
What is Schema, and why do you need it?
A website's ranking on search engines depends on several factors, but one of the most important is rich snippets schema.
The name says it all – schema basically means additional info. And when search engine algorithms evaluate your content. They add that info to what they already know about your website in order to determine its relevance to the user's query.
By adding schema markup to your WordPress site, you can make your content easier to find in search engines. And give your customers more information about the products or services you offer them. Plus, schema-optimized content tends to rank higher than non-optimized content in search engine results pages (SERPs).
The different types of rich snippet schema
Reviews, local business listings, articles, and product listings are all available. Google presents each type of rich snippet schema in a unique way.
If your site has too many reviews, it will display them in a timeline rather than a list. So, if you have more than one review per page, make sure they are well spaced out so they don't appear to be sitting right next to each other on your site.
Rich Snippets allows you to include up to 5 product images. This is great because, as long as all five images are correctly tagged, you don't have to include them all in your main post content.
Make sure to leave some space after your title tag. Add some whitespace, and then insert an image with relevant text above it.
Structured data markups such as Facebook Open Graph tags and Twitter Cards can be used in addition to Schema markup tags. These tags enable Facebook and Twitter users who come across your website through their social networks to easily navigate to it from their feeds or tweets.
They function when embedded in specific elements on your website.
Structured data makes it easier for search engines to understand what information is contained within a webpage, which may aid in ranking and traffic generation.
In short, rich snippets assist businesses in appearing more prominently in search results based on their relevance to user queries.
8 Best Free Rich Snippet Schema Plugins for WordPress

The Schema & Structured Data for WP & AMP plugin is an easy-to-use plugin. That helps you to improve your SEO by adding Schema and Structured Data markup to your site. This allows search engines like Google to better understand your content.
The plugin supports more than 35 schema types, such as Blog Posting, News articles, Local Businesses, Web pages, Articles, Recipes, Products, Video objects, and more.
You can use the plugin to include or exclude rich snippets schema markup to any posts, pages, post types, taxonomies, and more!
The plugin is compatible with the AMP for WP and AMP by Automattic plugins. In addition, it offers breadcrumbs listing support, archive page listing support, and offers excellent customer support.


WordPress Review & Structure Data Schema Plugin – Review Schema is a new WordPress-rich snippet schema plugin.
It has three main features.
Single or multi-criteria page/post and WooCommerce review and rating
Structured Data Schema Generation (Auto or Manual) JSON-LD
Shortcode for Affiliate Marketing or Product Reviews
It supports over 20 rich snippets categories, some of which are paid. Both reviews and schema support by the plugin.

Schema is a lightweight WordPress plugin for adding structured data markup to your site. It displays the appropriate schema type based on the content of the page or post. Additionally, it contributes to the improvement of your search results.
The plugin displays output in JSON-LD format, which is Google's recommended format. Another great feature is that you can reuse data saved in post meta by other plugins. The plugin enables users to quickly enable schema type per post type or post category.

The Schema App Structured Data plugin is incredibly simple to use. Simply installing it and configuring it will result in the plugin automatically creating schema types based on existing content on your website.
You simply need to activate the plugin and enter your company's logo and name. That's it; your content has been optimized to be fully understood by search engines, resulting in increased traffic, click-through rates, and other benefits.
In addition, the plugin includes all three Google Site Structure features, including Breadcrumbs, Sitelinks Searchbox, and Your Site Name in Results.
It will generate the page, post, search, author, category, tag, blog, breadcrumb list, and website markup automatically.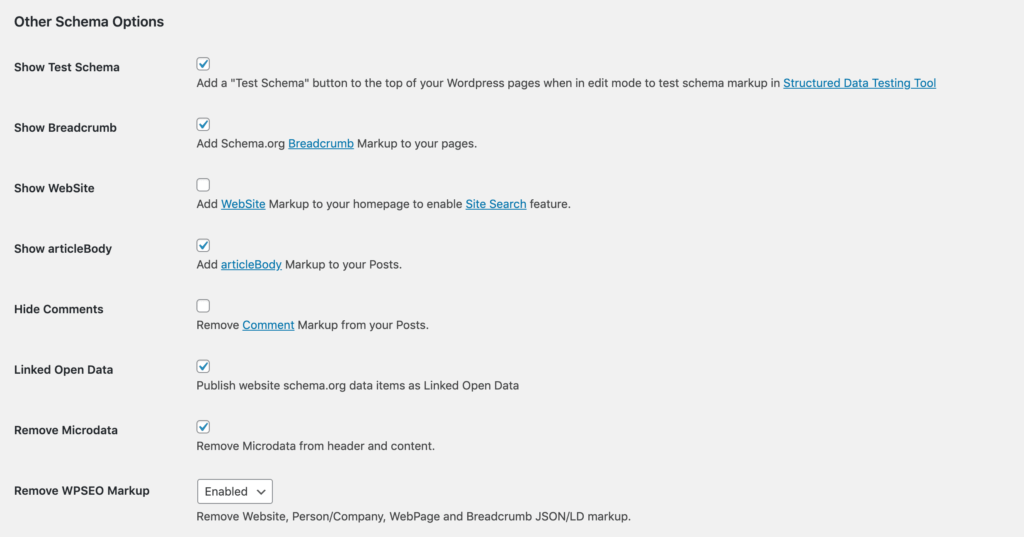 Easy Schema is another schema plugins for WordPress, that allows you to add various Schema types to your WordPress website. Providing search engines with all of the information they require to display your site prominently. Begin right away!
The plugin is simple to use, and you can quickly add structured data markup in JSON-LD format to your WordPress website.
It, like any schema WordPress plugin, aids in improving your site's SEO and user experience by incorporating various rich snippets schema. Some of the rich snippets include business logo, product image, FAQ, Rating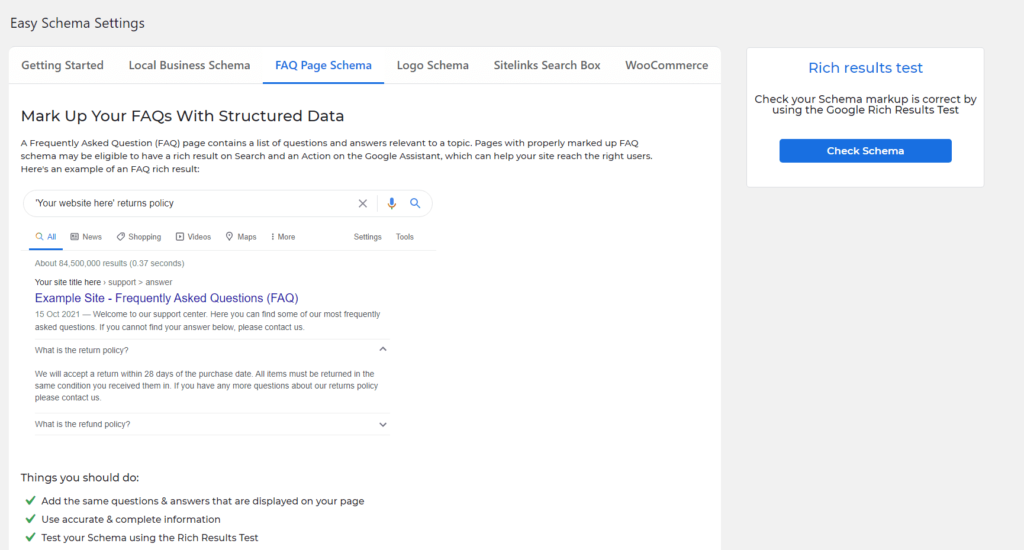 With the Schema – All in One Schema Rich Snippets, your site will be easy to find by search engines. It is essentially a short summary of your page in the search results of Google, Yahoo, Bing. And sometimes in the Facebook Newsfeed in a nice format with star ratings, author photo, image, and so on.
With the most popular schema markup plugin, you can get eye-catching results in search engines. Schema types such as reviews, Events, Recipes, Articles, Products, Services, and so on are simple to implement.
The plugins support the following schemas:
Review
Event
People
Product
Recipe
Software Application
Video
Articles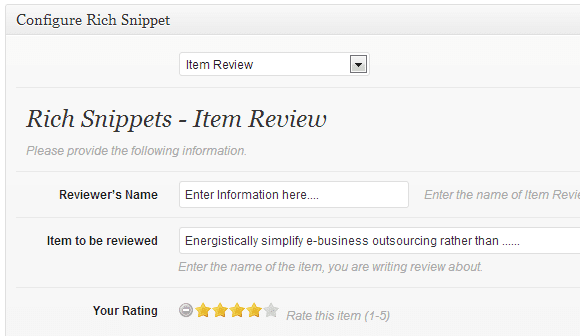 WP SEO Structured Data Schema is another free rich snippet schema plugin for WordPress that can add schema markup to your site.
You can use this plugin to add schemas such as organizations, local businesses, news articles, blog posts, events, products, videos, services, reviews, aggregate ratings, and restaurants.
The plugin allows output in JSON-LD format. It is designed and updated in accordance with Google guidelines. It comes with both the free and a premium version.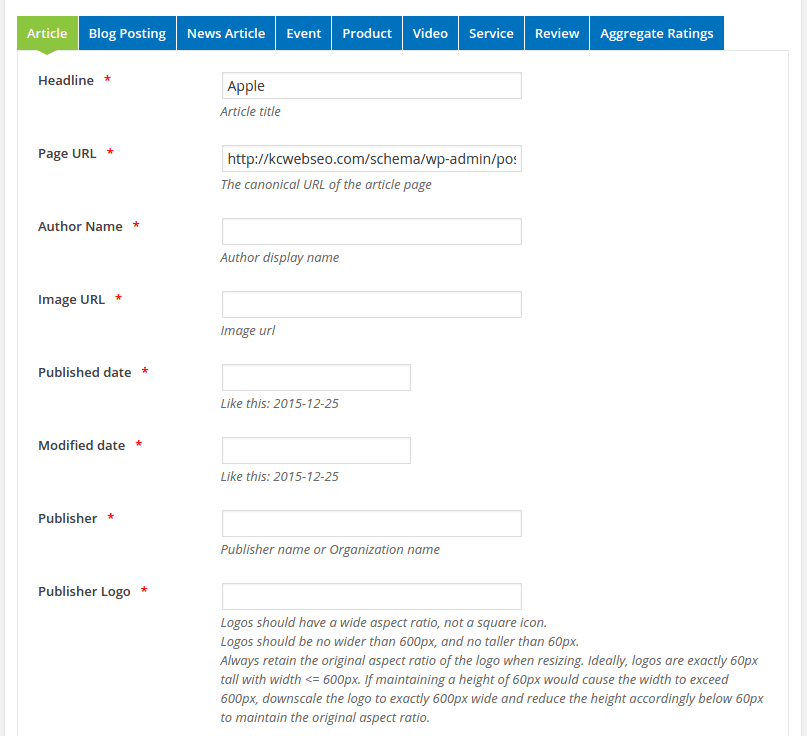 Another schema plugin for implementing rich snippets on your WordPress website is Markup (JSON-LD) structured in schema.org. It enables users to add JSON-LD syntax markup to your site's base knowledge.
It includes schema types such as article, blog posting, breadcrumbs, local businesses, news article, organization, person, site navigation, speakable, video, website, and others.
Conclusion
Whether you're interested in improving your website or want to provide added information to search engines. Schema can give you a competitive edge and make it easier for people to find what they need.
Using schema can add reviews, phone numbers. And other info so visitors have an easier time locating exactly what they're looking for.
Try out the above plugins to add schema markup to your website. If you found this post useful, then please take a moment to share it on social media. Subscribe to our YouTube channel for videos related to WordPress plugins and themes. Follow us on Facebook and Twitter for more updates.
You may also like:
12 Best WooCommerce Donation Plugins