Are you looking for the best WooCommerce donation plugins? While it's very easy to create your own donation form using the default checkout page of WooCommerce, there are many plugins that offer advanced functionality and seamless integration with popular crowdfunding services.
This article lists 12 of the best WooCommerce donation plugins so you can find the one that's right for your store.
If you use WooCommerce to handle your donations, then Donations for WooCommerce is a plugin that takes care of everything. Just set up the payment details and any prices for your products, and let it do its magic. It will display a donation button on each product page.
When a visitor checks out, they can choose to donate using PayPal or Stripe – or have money automatically deducted from their order total – and your wordpress site will be updated with a receipt automatically too.

You can easily accept donations on your site and create fundraising goals as well.
This plugin allows you to display the fundraiser option on your site or tie it to specific products
Set goals and display the progress bar
A lot of customization options are available out there for you.
Simple and easy to set up the plugin.

MailChimp is one of the most popular and recommended plugins out there for you. It helps you to gain your visitors' email addresses just by offering them a discount. The plugin is one of the best ways to retain and convert the visitor into a potential customer easily. It is a good option to create flexible forms.
So when a user subscribes with their email id the plugin will add the email to your MailChimp newsletter and in exchange, it will send them a unique coupon code to their registered email address.
When you give something it is most likely that they would return a favor. It would further encourage them to come back for more. In this, you can easily gain your user email address just by giving some discount which will be really helpful to boost your sales as well.
This WordPress plugin from PayPal is a single payment gateway that allows you to accept credit card payments through your site.
There are no monthly fees or merchant account required. This is a great option for those looking to start accepting donations with little cost and effort on their part.
Stripe is a payment gateway for e-commerce. It allows users to accept credit cards from anywhere in the world without worrying about cross-border fees or rate differences.
It will automatically convert your customer's payments into your local currency, making it easy to set up a business that accepts customers from all over the world. The platform also has a ton of security features that will help protect you and your customers.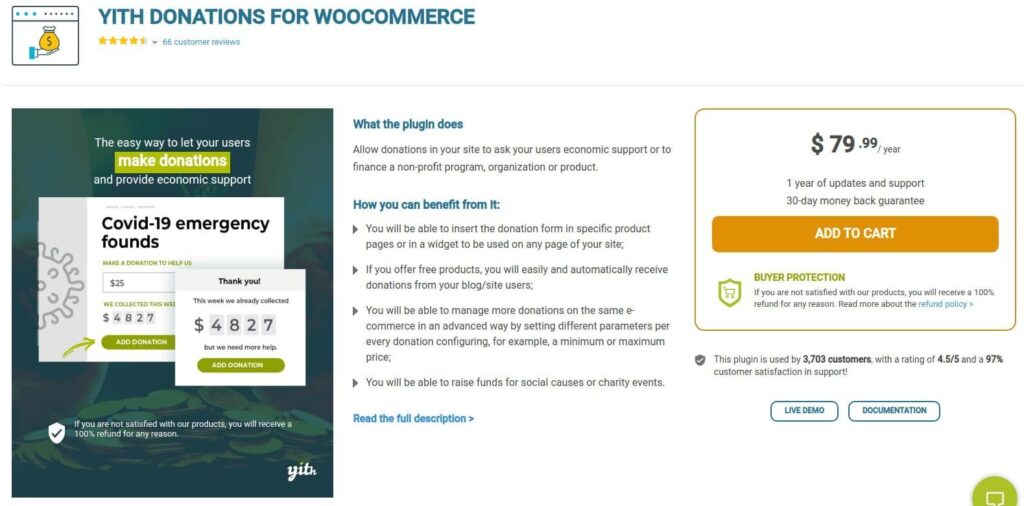 Give your customers more reasons to stay loyal. With a proper donation system, they can now do a good deed and get rewards for that. Allow your visitors to support a cause of their choice by adding YITH Donations for WooCommerce extension to your website.
This plugin is going to help you create fully-fledged donation forms where donors can choose from a set of options as it pertains to some elements such as amount, currency, and so on. This new plugin will extend some custom fields on your product editing page so that donations can be associated with any of them.
Then you'll be able to process those orders separately or assign special discounts based on those values entered by your customers.
This plugin allows you to set a pricing amount based on any user-selected criteria. This is a powerful yet easy-to-use tool that will let your customers configure a donation in a quick and efficient manner.
Unlike many other plugins, it can be used in conjunction with an existing product or added as a standalone donation-only solution.
If you want to give your users total control over their payment, look no further than Name Your Price. This plugin allows users to name their own price, adding a dynamic and customizable payment method that can help you earn more money.
It's perfect for things like donations, consultations, and paid events—and it can be linked to Stripe or PayPal.

Donations are vital to non-profits. Non-profits rely on donations to pay for everything from salaries to utilities. Potent is a free plugin that lets users make donations directly through their e-commerce site using WordPress.
Let's Create a product type for donations in your WooCommerce store.
Highly compatible with WooCommerce themes.

Charitable is a free, open-source, e-commerce donation plugin for WordPress. Your goal in setting up Charitable is to make it easy for your customers to choose what they want to do.
The point of using it isn't to make you rich but rather to raise more money for your charity with less effort on your part. •Easily integrate PayPal and other offline payment options.
Set goals for campaigns
Custom email notifications
If you're looking for a straightforward plugin to integrate donations into your e-commerce store, Seamless Donation is a good bet.
The plugin allows you to automatically add donations as options when customers choose to buy from checkout. After adding a donation to an order, users can easily select how much they'd like to donate and then proceed with their purchase.

If you're looking for a flexible payment option in your store, ELEX's plugin is hard to beat. The plugin allows customers to name their own price for any product.
Customers can enter an exact amount or use a slider to adjust prices between minimum and maximum amounts.
The plugin also comes with advanced settings that allow administrators to tweak every detail of how it functions on their store.
Conclusion
If you are thinking of accepting donations on your site, try out these best donation plugins for WooCommerce. Each has unique features that will help you accept payments with ease.
Try the above-mentioned 12 best WooCommerce donation plugins and explore all of their features and functionalities yourself. Give it a try today.
If you found this post useful, then please take a moment to share it on social media. Subscribe to our YouTube channel for videos related to WordPress plugins and themes. Follow us on Facebook and Twitter for more updates.
You may also like:
8 Tips for Keeping Your WordPress Secure