Customers from all over the world are flocking to the e-commerce market. If they have access to the internet, they will use it to shop no matter where they are. And it was during this pandemic that the entire world came to a halt. The e-commerce market was exploding and breaking sales records.
We're all aware of how important it is to make your customers' lives easier. You must improve your WooCommerce store with some functionalities that your customers will appreciate.
An autocomplete feature, which eliminates the need to retype addresses on the checkout page, would make your shop more convenient. The plugin we'll be discussing, in this case, is Checkout Address Autofill for WooCommerce, which assists users in filling out their addresses correctly during the checkout process and improves your conversion rate, and keeps your customers happy. Continue reading to learn more about the Checkout Address Autofill for WooCommerce plugin.
Why use address autocomplete feature
While using the traditional checkout page, where users must manually enter their addresses. When they see a long list of billing and shipping fields, they may become irritated. It is much easier for them to switch to another website, which would save them the trouble of going through the entire checkout address fields.
In some cases, they provide incorrect addresses, resulting in more time spent resolving the incorrect address via emails and phone calls. And if you have already dispatched the products with the incorrect address, it will be undelivered, costing you the shipping and packaging fees.
For some, it may be the most tedious and tiresome part of the eCommerce process. You need to fill in your address, if you are sending the products to a different address then you will need to make more changes during the checkout. But for some of us, it's just a plain boring task. That is why so many order-placing customers view checkout fields as unnecessary obstacles in their way to obtaining a new purchase.
This is where an address autocompletes plugin for your WooCommerce store can help.
What is Checkout Address Autofill for WooCommerce?
Checkout Address Autofill is an advanced WooCommerce plugin that does what the name of the plugin implies. It auto-fills the billing and shipping address fields at the checkout page based on the user's address and location. Not only this, but it can also use a google map to help give more visibility. And fine-tune the location you are selecting.
The Checkout Address Autofill for WooCommerce plugin has an easy-to-use interface that allows you to quickly set it up. And start reaping the benefits of its numerous features.
All you have to do is obtain the Google Maps API key and enter it into the free or pro version of this plugin. After that, make some basic settings. Such as whether you want the autofill to be limited to billing fields, shipping fields, or both.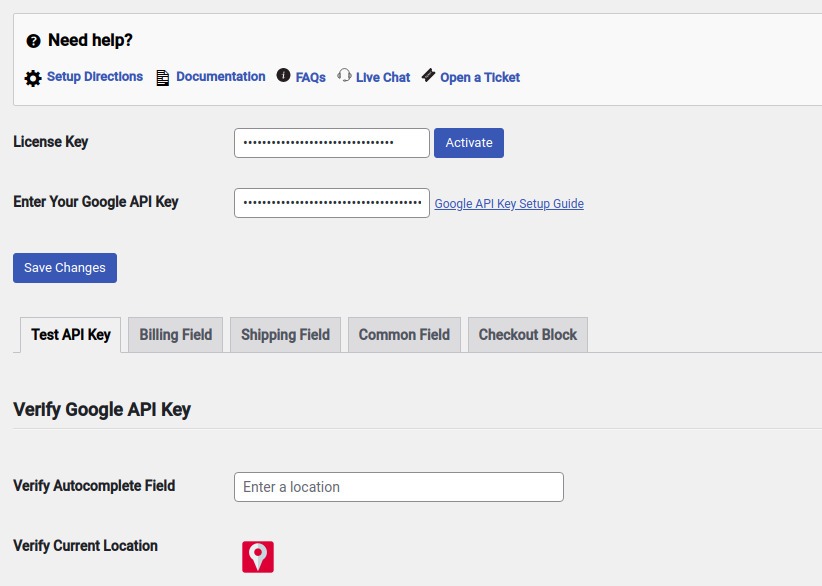 The pro version of the Checkout Autofill for WooCommerce plugin gives you the option to enable Search Address Autocomplete, Location Picker, and Current Location picker options. While in the free version of the plugin the Location Picker features are missing.
More features
During the checkout process, users can easily autocomplete their billing and shipping address fields by searching their addresses. And selecting from the suggestions or by using the current location icon to quickly fill in their current location address into the appropriate fields.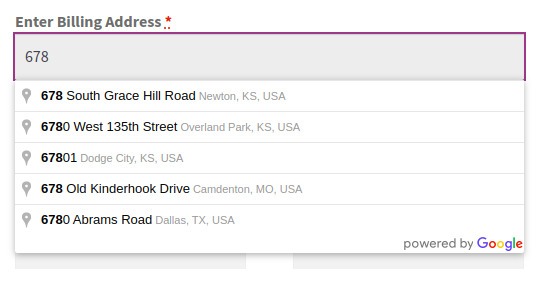 Furthermore, WooCommerce store owners can take advantage of the Field Mapping, Geolocation, Compound Code, and Global Code feature in this plugin. More useful features include the ability to display address results from specific countries only, translation options, positions, and images, effects, and other customization options.
Please keep in mind that both the free and pro versions of the Checkout Address Autofill for WooCommerce plugins, as well as any other address, autocomplete plugin, require the Google Maps API key. In order to obtain the Google API Key, the Google Console account must be billing enabled.
Why choose Checkout Address Autofill for WooCommerce over others?
There is plenty of address autocomplete plugins on the market. To be honest, other plugins aren't as feature-rich or reasonably priced as the Checkout Address Autofill for WooCommerce plugin.
Provides more features at a low cost.
Some of the available address autocomplete plugins do not provide the support and updates required to run the plugin smoothly. The search address suggestions feature is the only one available in the majority of plugins.
However, even if you use the free Checkout Address Autofill for WooCommerce plugin, you will get not only search address suggestions, but also current location picker options. And, you also get the option to test your Google API Key to see if it is working properly.
Furthermore, you will receive the Geolocation feature, which will store the customer's geolocation (longitude and latitude) in the order page if enabled by the admin. Where the administrator can use geolocation to see the exact location from which the order was placed.
There are also compound code and global code options, which are very useful if you use WooCommerce Distance Rate Shipping to calculate shipping rates based on the exact distance.
Easy to use
With its simple interface and well-organized sections, the plugin is simple to use. The Billing and Shipping sections are simple to set up. After you've finished configuring the plugin, it will do the work for you.
When users use the search autocomplete field, a current location picker, or location picker to autofill the address, the plugin will fill in the address 1, street address, city, state/province, country, and zip code in the appropriate fields.
Best Support and Updates
The support team is very active and will assist you with any problems that arise with your website. Furthermore, there are dedicated videos and documentation to walk you through the setup process and how to use the features. The plugin is constantly being updated with new features and improvements to provide you with a smooth user experience and to keep you ahead of your competition.
How the Checkout Address Autofill for WooCommerce can help your business grow?
What do customers look for when they visit a shopping website? If you ask me what I look for, I will say that the website should be easy to navigate, have a good selection of options. And provide a good shopping experience through its ordering process, shipping, and product quality. I can see how a website improved our shopping experience. As a result, I will return to such a store.
Similarly, the Checkout Address Autofill for WooCommerce adds value to the website. And assists customers in processing their orders quickly and efficiently. As a result, customers will return to your website and become repeat customers. Which can give a boost to your business.
In addition, Local Customers and Customers from different countries with different addresses will appreciate the convenience of a checkout address autocomplete. Checkout Address Autofill for WooCommerce will assist them in viewing their addresses from the suggestions or by using the map or current location autofill options. They can easily fill out their addresses in seconds, assisting them in their decision-making process.
Features in Checkout Address Autofill for WooCommerce Plugin
We have listed some appealing features of the free version of the Checkout Address Autofill for WooCommerce plugin.
Simple to use with a clear User Interface
Validate Google API Key
Works for billing and/or shipping addresses
Allow the use of the current location for both the Shipping and Billing addresses
Display Results from a Specific Country
Allows autofill Phone Number
Has features that allow the Company Name to be autofilled
Supports the most recent version of WooCommerce
Translation Ready
Features in Checkout Address Autofill for WooCommerce Pro Plugin
Here are some of the attractive features of the Checkout Address Autofill for WooCommerce Pro. The pro version offers all the features of the free version.
Save Geolocation (Latitude and Longitude) of the Billing and Shipping addresses. You can see the exact location of the billing and shipping addresses on the Edit Order page. Thereby, this allows specific shipping/billing address
Fill in the addresses for the Billing and Shipping fields using the Location Picker feature.
Adjust the Location Picker Zoom – The Admin or owner can adjust and have control over the location picker zoom size from the plugin's Settings page.
The Google Autofill Field Mapping feature allows you to combine multiple fields from your billing and shipping addresses into a single field of the respective billing and shipping addresses.
Now get Compound Code and Global Code in the Checkout Page Location Picker for any location. It has powerful shipping methods. Useful when you are using WooCommerce Distance Rate Shipping. Easily calculate shipping costs based on the actual distance of your customers accurately.
Option to adjust the Autocomplete Billing Field, Autocomplete Shipping Field, Current Location, Location Picker positions on checkout page
Supports WooCommerce Checkout Block
Set the existing Billing or Shipping field as Google autocomplete field
Checkout Address Autofill for WooCommerce pricing
Despite the fact that the Checkout Address Autofill for WooCommerce provides you with all of the necessary features to use the address autocomplete features.
However, the Checkout Address Autocomplete for WooCommerce Pro provides more advanced features at a lower cost than other plugins. A single site license costs $21.99 per year, 2 to 5 sites cost $89.99/year, and unlimited sites cost $299.99/year.
Conclusion
One of the most underappreciated features of an e-commerce website is the address autocomplete feature. It can greatly reduce address errors and provide users with a more convenient and faster checkout experience. Checkout Address Autofill for WooCommerce is powerful. And the low-cost options for improving your store's user experience, increasing customer satisfaction, and sales.
If you enjoyed the post, please share it on your social media channels. For updates, guides, and more, like our Facebook page, follow us on Twitter, and subscribe to our YouTube channel.
You may also like:
Top 25 Free WordPress Themes for Photographers