Are you looking for the Best WooCommerce shipping plugins that can help you improve your shipping? Then you are in the right place. Shipping is an extremely important factor in selling products online. Giving the best shipping services ensures that your customers keep coming back to your website and become repeat customers.
I've compiled a list of some of the popular and best WooCommerce shipping plugins, so you don't have to go through all the trouble of searching for them. You can even try them out and decide which ones suit your needs best, and which one gives you the best services.
Below is the list of Best WooCommerce Shipping Plugins. But before that, let's see why shipping is important for an online store and Why should you integrate shipping with your WooCommerce store?
Why shipping is important for an online store?
Shipping is critical for online businesses. It contributes to a better user experience on your website. If you offer free shipping or are more lost than your competitors, you will notice a decrease in cart abandonment and an increase in sales.
Delivering packages to customers should be simple and straightforward. Customer satisfaction will rise as a result. Furthermore, if they want to return a product, the return pickup is required to make it easy for the customer to return the product from their home without having to take it to any shipment center.
Choosing the right shipping method and service is critical for providing the best shipping services to customers. Providing the appropriate services to your customers will have a significant impact on your conversion rate.
Furthermore, if you sell globally, people from all over the world can become your customers and access your products with the right shipping services.
You should also use the Checkout Address Autofill for WooCommerce plugin to reduce address filling errors during the checkout process. It greatly helps in the address autocomplete in WooCommerce billing and shipping fields during the checkout page.
What qualities should WooCommerce Shipping Plugins have?
Flexible
Flexibility is a prominent factor in the performance of any task. In the same manner, you need a highly flexible shipping plugin to empower your online business. Apart from adding different shipping methods, it should be able to calculate a fair price for a wide range of product characteristics, track shipments, and more.
Support
Businesses of any size should provide international shipping support to their customers. After all, you never know where your next customer is coming from.
Order Tracking
Order tracking is a major part of eCommerce and an ever-present aspect in the mind of the customer. Customers expect to keep track of their purchases, and this often becomes one of the main reasons behind dropouts and cancellations. The importance of having a well-built shipment tracking system cannot be understated.
Best WooCommerce Shipping Plugins

Table Rate for WooCommerce is a versatile shipping plugin for WooCommerce that allows you to calculate shipping costs based on weight and/or cart total. You can add names and descriptions to your shipping methods, as well as create COD, shipping rules, and methods.
After reaching a certain order value, you can also add a handling fee or an insurance cost.

Advanced Shipping is a powerful shipping plugin for WooCommerce. This is a fantastic WooCommerce plugin that allows you to create shipping methods for your customers. You can use this plugin to create multiple shipping methods and shipping conditions.
The WooCommerce Advanced Shipping plugin accepts advanced shipping rate conditions such as item quantity, user roles, shipping class, category, and product weight. It comes with a number of features that can be expanded with the help of extensions.

Easyship is yet another powerful WooCommerce shipping plugin. It is an ideal tool for sellers who send a small or large volume of parcels. It allows you to link multiple couriers to a single account. With a few clicks, the plugin easily syncs orders and prints labels.
The plugin has a large collection of shipping providers from all over the world, allowing you to easily select the best ones in your area. It also has a fantastic library that automatically calculates tax, VAT, GST, and fees upfront and allows customers to select their preferred shipping method.

Another popular WooCommerce shipping solution is WooCommerce Advanced Free Shipping. The plugin is intended to give you complete control over your WooCommerce website's free shipping rules. You can create your own advanced rules to determine when a customer should be able to take advantage of a free shipping offer.
This plugin gives you complete control over your WooCommerce free shipping rates. You can create multiple 'OR' condition groups with multiple 'AND' conditions within each group within each shipping rate. The plugin includes a filter hook that can be used to extend the functionality even further.

Advanced Shipment Tracking for WooCommerce is a useful WooCommerce shipping plugin. It helps you easily tracking information and completing orders, keeping your customers informed, reducing time spent on post-shipping inquiries, and increasing overall customer satisfaction.
It includes a shipment tracking information in WooCommerce order completion emails. Customers can track the status of their orders directly from the email notifications in this manner. Advanced Shipping Tracker, on the other hand, allows you to integrate shipment tracking for any external shipping provider.

The WooCommerce Shipping Label Plugin is a WooCommerce Addon that will help you to link the Shipping Labels with WooCommerce Orders and will generate and print the shipping label from within your WooCommerce Orders.
WooCommerce Shipping Label Plugin is a must-have plugin for the WooCommerce stores that ship their products all over the world. Moreover, with this WooCommerce shipping label plugin, you can save your time to create and print the shipping label without going to the online printer websites.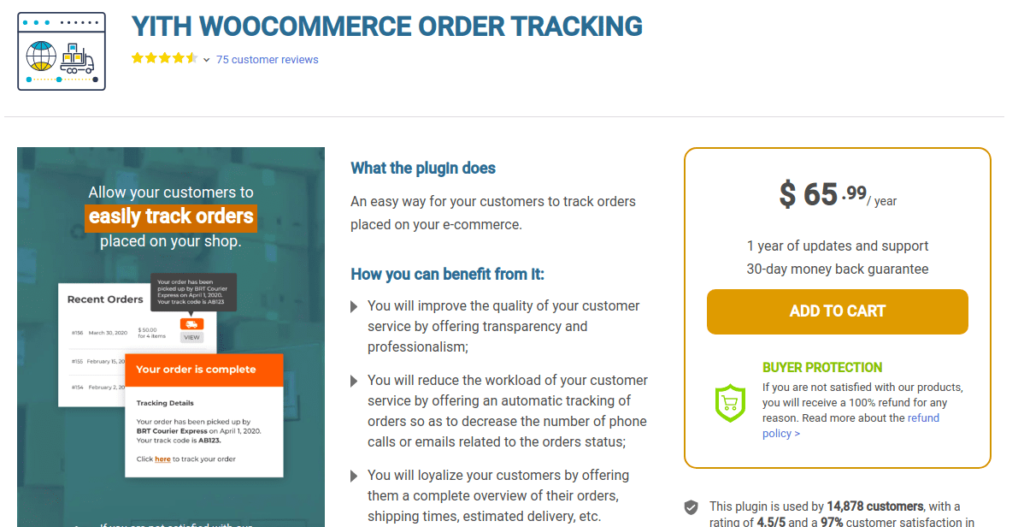 Let your customers track their orders right in your WooCommerce store. It understands how important it is for online retailers to keep their customers informed, that's why they have built this plugin.
Moreover, this plugin is used to display tracking information to your customers in your store. It also allows the store owner to set up a tracking page based on the order status and notifies the customer at specific time intervals.

Weight Based Shipping is a simple yet versatile WooCommerce shipping plugin. To compute shipping costs, the plugin relied mostly on order weight (but was not restricted to). You can use the plugin to add several rules based on various situations.
With Weight Based Shipping plugin, you can set up as many shipping rules as you need for different order locations, weight ranges, and subtotals. You can also tweak each rule to show a constant price, a progressive charge based on cart weight, or both. Moreover, you can enable conditional free shipping.
Should you integrate shipping with your WooCommerce store?
The primary function of the Shipping plugins is to provide a variety of shipping services through a variety of carriers at competitive rates. With easy integration into your WooCommerce store.
Moreover, different companies will provide you with more options for low-cost shipping and dependable services.
Furthermore, you will have access to the most recent technological advancements to improve the efficiency of your online store and deliver products to customers.
The systems are properly integrated to provide you with a seamless experience; you can also easily process orders, choose a courier service by viewing ratings and calculating prices, and send from the dashboard.
Because everything is integrated, there will be no errors on your end unless the customers enter an incorrect address.
Conclusion
We have come to the end of this post. I hope you found some useful information about the Best WooCommerce Shipping Plugins. If you do please share the post on your social media channels.
For more updates, guides, listicles, and more, like our Facebook page, follow us on Twitter and subscribe to our YouTube channel.
You may also like:
8 Top WordPress Multilingual Translation Plugins