Multilingual Translation plugins are an excellent tool to engage and reach a larger audience. WordPress is a free content management system, which benefits users with little technical expertise. However, website owners often do not realize that they can translate their website into foreign languages. Through multilingual translation plugins, one can localize content into multiple languages without the need for hiring a professional translation agency.
Moreover, this would be necessary if you want to target clients from all over the world.
If you want to get more visitors, then you should make your website accessible in as many languages as possible.
There are literally hundreds of WordPress multilingual plugins out there, and they offer excellent solutions for your translation problems. But it can be challenging to choose the right one. So I created my own list of WordPress multilingual translation plugins, based on my research and experience, which allows me to translate my website into multiple languages easily.
Please keep this in mind
When you install one of the WordPress multilingual plugins, it is going to automatically detect a visitor's language and then immediately translate the content on your website in that particular language. A visitor in Japan visiting your website might see Japanese content on your site when the visitor is accessing your site from there, while someone else visiting from France would get French content on your site.
Before deciding on which multilingual plugin to use, you have to take into account the number of languages you want to translate your site into. This is because some plugins work better for some languages, so if you are not aware of this, it could cause you a lot of wasted time and effort.
Without further ado, let us dive into the list of the Top WordPress Multilingual Translation Plugins.
8 Top WordPress Translation Plugins for Multilingual Sites
WP Translate is a powerful WordPress translation plugin that allows your visitors to access your website in the language of their choice. The plugin makes use of Google Translate to translate content into a variety of languages.
After you install the plugin, website visitors will be able to access your website in a variety of languages by simply selecting the preferred language option from the available options.
WP Translate installs a widget on your website that allows users to access your website's content in any language they prefer.
Key Features
The plugin is simple to use
For quick and dependable translation, it makes use of the power of Google automatic machine translation
Supports Google Analytics integration to track translation usage
Translates website, website pages, posts, categories, tags, menus and widgets
Supports enhanced widget positioning
Price
The plugin is freely available. It also includes a pro plugin, which starts at $15 and includes additional features such as Shortcode, customization options, widget customization options, and more.

Google Website Translator is yet another multilingual translation plugin that makes use of Google's automatic translation service to translate your website. It supports over 100 languages, so it's a great option for you, and you'll almost certainly find the language you're looking for.
The multilingual translation plugin provides you with three inline and four tabbed styles to provide translation options to website visitors. You can also use it as a widget or display the translation option anywhere on your website by using a shortcode.
It is also advantageous from an SEO standpoint, as it has no negative effect on page loading speed. Moreover, you can Import/Export settings from the Google Website Translator to easily transfer configurations.
Key Features
Easy to use plugin
Uses Google Translation Service
Choose from 100+ languages
Customize the translation styles from inline and tabbed styles
Use widget anywhere on your site using shortcode
Does not affect the page loading speed
Price
The plugin is free. But It also has a pro version with more features in a lifetime plan for $50.


Weglot Translate is a well-known WordPress translation plugin. Additionally, this plugin supports over 110 languages, allowing you to translate your website into them. The plugin provides simple translation and display options that do not require any coding knowledge.
The Weglot Weglot Translate plugin translates your website's content, theme, and plugins. It also works with WooCommerce product descriptions and Elementor elements, which is fantastic. So that your website visitors have a consistent experience that does not break any content.
Furthermore, when it comes to SEO, you will have no problems. Because the plugin is well optimized in accordance with Google's best practices, the translated pages will be easily indexed by Google.
You only need to configure it once, and the plugin will take care of the rest. If there is an update to the translated texts, the plugin will take care of it automatically. Moreover, within Weglot, you can share and edit the translated content with your team.
Key Features
Easy to use translation plugin
Collaborate with your team for manually editing translations
Weglot takes good SEO measures for properly indexing the translated content on your website
Compatible with WooCommerce, Elementor and other popular plugins
Supports translation migration from Polylang, WPML or any multilingual translation plugin
Visual editor that allows you to translate while being on your web page
Price
Weglot Translate is a free plugin, but it only supports one language and small websites with fewer than 2000 words. If your needs are more, there are more paid plans available.

Polylang is one of the most popular WordPress bilingual or multilingual translation plugins. Using the Polylang plugin, you can translate your website's posts, pages, media, categories, post tags, menus, widgets, and everything else. The plugin does not support the translation of your WordPress theme and plugins.
Custom posts, custom taxonomies, sticky posts, RSS feeds, and post formats are also supported. Moreover, you have to manually translate the website into various languages that you want.
Each translated post has its own unique URL, which is made up of the two-letter codes for the language that you want to translate. You can include a widget that allows website visitors to change the language of the page.
Key Features
Easy to use with its simple interface
Option to translate your website into various languages manually
Supports posts, pages, media, categories, tags, RSS feeds and more translation option
You can add widget for language changing option
Compatible with WordPress SEO plugins
Price
The Polylang plugin is available for free. However, at a cost of 99.00€, it also does include a Pro version with additional features such as Translations that can share the same slug in the URL, Enable or disable languages, REST API Support, and more.

TranslatePress is another popular option to multilingual translate your WordPress site. As with any other plugin on this list, getting started with this one is a breeze. With the live editor and a very user-friendly editor, you can easily translate your website.
It supports page builders and WooCommerce, making it an excellent choice for a multilingual blogging site or an online business. Not only that, but the plugin works seamlessly with other themes and plugins.
The great thing about this plugin is that it integrates with Google Translate to support both manual and automatic translation. And because it's a GPL plugin, you have complete ownership of the translations.
Furthermore, the plugin generates SEO-friendly URLs for all translated languages, allowing search engines to easily crawl and index those pages without affecting the SEO of your website.
Key Features
Easy to use translation plugin with front-end translate feature
Switch between languages during manual translation
Translate content, theme, plugins
Creates SEO friendly links for the translated pages
Manual and Automatic Translation option
Compatible with page builders, WooCommerce, Other Plugins and Themes
Price
The plugin is free to use. It also has paid options with more advanced features starting at €79 per year.

GTranslate is a well-known WordPress multilingual translation plugin. It automatically translates your WordPress site using Google Translate. It supports over 100 languages in which you can translate your website.
This plugin also includes options for automatic and manual translation. It provides a cloud-based solution that does not slow down page loading speed and provides complete SEO compatibility to improve your search performance.
The plugin has a ton of customization options, along with Google Analytics integration and WooCommerce compatibility. With this plugin, you can easily translate pages, posts, categories, tags, menus, widgets, themes, and plugins, among other things.
Key Features
Add language switch option to easily change website language
More than 100 languages supported
Lots of customization options
SEO optimization features included
WooCommerce compatibility
Translate pages, posts, widgets, menu, themes, plugins
Price
Free version that you can download. It also has a paid option with advanced features that begins at $7.99 per month.

Another useful multilingual translation plugin is Google Language Translator. It is now a part of the GTranslate plugin, so there isn't much of a difference between the two apps. It is compatible with Google's automatic machine translation.
This plugin provides a plethora of customization options. You can customize the widget by adding country flags to represent the language, for example. The plugin is WooCommerce compatible, so if you have an e-commerce website, you won't have any trouble translating the product or shop pages.
Furthermore, you can translate your website's posts, pages, widgets, menus, categories, tags, themes, plugins, and other elements easily.
Key Features
User friendly plugin
Automatic language translation using Google language translate
WooCommerce and Page Builders Compatible
Many customization options
Translate website content like pages, posts, widgets, menus, categories, tags, themes and plugins
Price
This plugin is completely free to use. Premium plans with additional features begin at $7.99 per month, similar to the GTranslate plugin.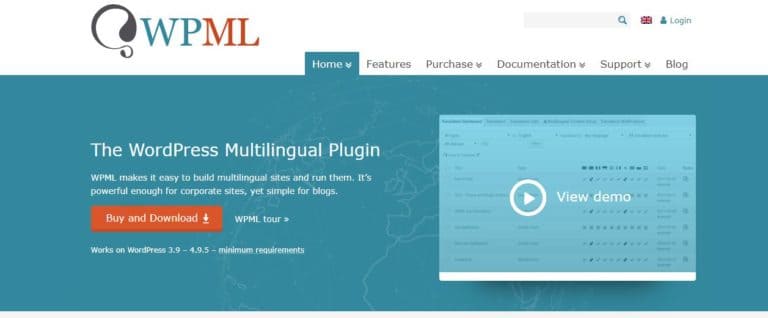 Another popular WordPress multilingual translation plugin is WPML. The plugin includes a robust translation management system that allows you to translate plugins, themes, website content, and more.
It includes an easy-to-use interface for adding translations and managing multilingual content on your website. WPML supports all WordPress post types, taxonomies, custom fields, and strings generated by your themes and plugins.
You can also connect your website to third-party translation service providers. You can choose which content needs to be translated and have it directly submitted to your website.
Key Features
Translate posts, pages, tags, categories, widgets, custom taxonomy, menus, custom types and more
WooCommerce, Page Builders compatible
Browser language detection
Automatic Translation option
Price
WPML is a completely premium option; the Multilingual Blog plan costs $29, the Multilingual CMS plan costs $79, and the Multilingual Agency plan costs $159.
Conclusion
The Multilingual Translation plugin can greatly expand the reach of your website, allowing more people to read, stay updated, or interact with the content on your website.
Choosing the right translation plugin that offers great customization options, language support, automatic and manual translation features, and is easily customizable is important. Polylang is used on my website. You can also look at the other plugins mentioned in this post.
I hope you enjoyed this post; please let me know which translation plugin you use on your website if any, and which one you would choose if you did not use any.
In addition, please take a moment to share it on social media and Subscribe to our YouTube channel for videos related to WordPress plugins and themes. Follow us on Facebook and Twitter for updates related to WordPress.
You may also like:
WordPress, Squarespace, or Webflow? Pros and Cons in 2021