What is the best WooCommerce product filter plugin? This question is often asked by merchants and store owners like you. Having a WooCommerce Product Filter plugin helps you organize your store and greatly improves the user experience.
WooCommerce product filter plugins are considered to be one of the best plugins for WooCommerce. By adding a product filter makes your WooCommerce store more attractive to customers. It helps them find exactly what they are looking for faster.
There are many WooCommerce product filtering plugins in the market that you can install into your WooCommerce store. For your reference, I have provided the 7 Best Free WooCommerce Product Filter Plugins. Each of them can help you create a stunning WooCommerce product filter for your store without the need for code.
Benefits of using WooCommerce Product Filter
Most customers have already decided on their preferences. And they will almost always use the product filter to find what they are looking for. Customers will struggle to find their desired products if your website contains hundreds of products. And product variants and no product filters are used. And they might leave your website to look for alternatives.
Adding a WooCommerce product filter plugin to your store not only helps them find their products faster but also improves the user experience of your store. It also contributes to customer satisfaction, as customers may return to the store for the convenience of shopping.
Furthermore, the various filter options give your customers complete control over what they are looking for. For example, if someone is looking for a Formal Shirt. They can easily select the product color, size, shirt type (Formal), and other options.
The product filters will assist users in quickly finding their ideal products, resulting in increased sales in your store.
Please avoid any product filter duplications, such as 'Shirt' and 'Shirt'. They are both filtering the same products. Making two different filter options for the same work, on the other hand, is impractical and makes no sense. 
Keep monitoring the filters that do not contain any products. Try to get rid of such filer options.
7 Best Free WooCommerce Product Filter Plugins

Themify – WooCommerce Product Filter is one of the best WooCommerce plugins for creating product filters on your e-commerce store. They can be very useful for your users, assisting them in quickly finding the right products.
The Themify WooCommerce Product Filter plugin allows users to easily filter through various options such as price range, categories, attributes, tags, and more. After you've chosen your filter options, the plugin will display the live search results.
Using the plugin, you can arrange the filter options by dragging and dropping them. More customization options are available, such as changing the layout of the filters from Horizontal to Vertical. The plugin works with page builders such as Divi, Elementor, Themify Builder, and others. Which makes it an excellent choice.

The YITH WooCommerce Ajax Product Filter is another popular option for creating a WooCommerce Product Filter. The YITH WooCommerce Ajax Product Filter is a reliable plugin to create product filtering.
Filters include color, size, material, select, text, color swatches, checkboxes, and more. More customization options are available, such as term ordering, allowing or denying multiple selections, and adding Reset Filters.
Your website will look modern with the YITH WooCommerce Ajax Product Filter. You can also see a screenshot of it.
The free plugin has a lot of useful features. But if you want more, you can upgrade to the premium version. The premium version offers features such as modal window support on mobile devices, filter option for reviews, price slider, price ranges, and more.

The Advanced Ajax Product Filters plugin is the next on our list. The plugin generates Ajax-powered product filters and allows you to add an unlimited number of filters with a single widget. All of the standard filter options, such as attributes, categories, price, tags, taxonomies, and so on, are available.
The plugin also supports Shortcode, which increases its flexibility and allows it to be used anywhere on your website. There are numerous display options available, such as checkboxes, clouds, dropdowns, radio buttons, range sliders, tags, and so on. You can also easily change the display style of these options. One of the plugin's key features is dynamic product recount.

Another popular plugin on our list is the WOOF – Products Filter for WooCommerce. The plugin provides a high level of flexibility and advanced options, making it an excellent choice for adding product filters. Because of its options, the WOOF plugin can significantly improve the user experience on your site.
The plugin adds product filters such as categories, attributes, products tags, products custom taxonomies, prices, and more. There are more customization options available based on your need. Apart from that it also supports Shortcode which allows you to place the widgets anywhere on your site.
The plugin works with WordPress themes and plugins. That's a good thing. Statistic, Quick Search, Turbo Mode, and other features are included in the plugin.

WooCommerce Product Filter by WooBeWoo is an excellent plugin for incorporating Product Filters into your WooCommerce store. Product filters can be created for products/items based on price, categories, tags, radio buttons, dropdowns, taxonomy, attributes, and more.
The plugin is completely customizable, allowing you to display the product filters in any way you want. Elementor compatibility, Ajax live search, price filter customization options, fully responsive, and many other features stand out. It also includes a pro version with additional features.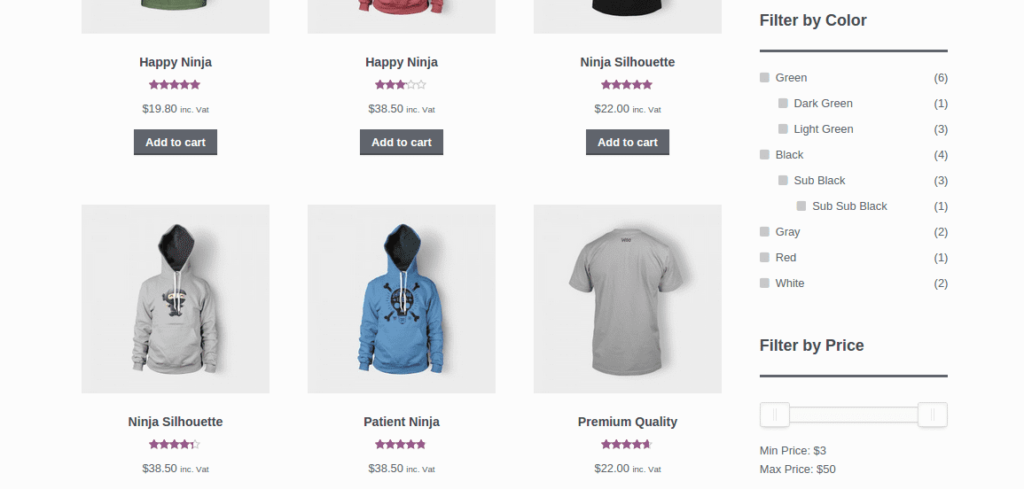 The WC Ajax Product Filter is another option for creating product filters in the WooCommerce store. The plugin makes it simple to create product filters such as categories, attributes, and prices.
WC Ajax Product Filter plugin uses Ajax to sort products. And when users apply product filters, the changes are made in real-time. The plugin is fully customizable, includes Custom CSS support, is responsive, and is SEO-friendly. It displays product filters in minimalistic designs, making it lightweight and fast.
With a few clicks, you can easily activate or deactivate product filters. It displays two types of displays: list and dropdown. Furthermore, the WC Ajax Product Filter compatible with WooCommerce, currency switchers, and caching plugins. Which makes it a great option for adding product filters to your website. The only thing to keep in mind is that the plugin hasn't been updated in four years, which can be a disadvantage.

The Premmerce Product Filter for WooCommerce plugin is an easy-to-use and adaptable tool for managing filters for WooCommerce products. Using the plugin, you can create an unlimited number of filters, giving the user an easy and quick way to filter products by any attribute of their choosing. You can choose from a variety of attributes, including Brand, Product Type, Manufacturer, Price Range, Tags, and more.
Furthermore, you can distinguish between relevant and irrelevant search queries. And show or hide relevant elements on each page or post by using additional SEO control over the search query your users enter in the search box. Moreover, it is one of the most user-friendly, flexible, and intuitive tools on the market, and it is WooCommerce compatible.
Conclusion
Many merchants or store owners disregard the product filters, which is unfortunate. Having a Product filter on an e-commerce store allows users to quickly find the products they want, which increases sales. Furthermore, it improves the user experience of your online store. Customers will return to your store to shop again.
To enable product filters, install any of the following plugins on your store. I hope you found this post to be helpful. Moreover, please let us know which of these plugins you prefer and intend to use; if you are already using one, please share your experience with us and other readers.
For updates, guides, listicles, and more, like our Facebook page, follow us on Twitter and subscribe to our YouTube channel.
You may also like:
17 Best Ways to Speed Up Your WooCommerce Store