In this article, we'll cover 10 elements you should have on your e-commerce website in order to succeed with your business. Before we start, though, let's go over what exactly e-commerce means, so that we're all on the same page!
E-commerce is defined as any business activity in which goods or services are sold and purchased electronically. Typically, e-commerce businesses run online stores that sell a variety of products including clothing, food and beverages, cars, beauty products, and more! E-commerce sales are increasing and are expected to increase even further in the coming years.
Without further ado, let's get started with 10 elements you should have on your e-commerce website!
1) Add Categories
When you first set up your website, it's important to add categories to make sure your customers can find what they're looking for.
Categories act as an umbrella that groups similar products together, so when customers are searching for specific products, they know where to look!
Create a few main categories at first that group your items into broad topics. From there, add subcategories and product descriptions to provide more detail about your offerings.
As you create new items, remember to add them under their appropriate category. That way, people will be able to find them easily!
2) Include an About Us Page
Customers want to feel connected to your brand, and an about us page is a great way to do that. Don't just throw together some information; use it as an opportunity to connect with potential customers on a personal level.
Show them who you are and what makes you tick. If they like what they see, they'll be more likely to make a purchase!
Plus, if you sell products or services online, providing contact information allows customers to reach out if they have any questions or concerns.
It also provides social proof that other people trust your business. There's nothing better than seeing reviews from other happy customers on your website!
3) Give a Promo Code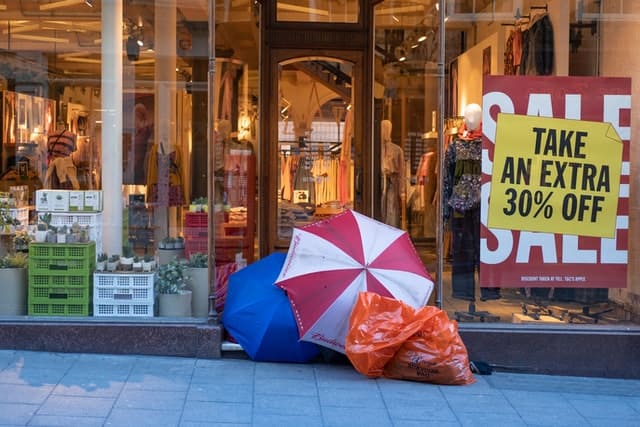 One of the ways you can attract more people to your e-commerce website is by giving out promo codes. Not only will these codes help bring in new customers, but they'll also be used as a marketing tool.
Promo codes are often seen as a great way to bring in new business, and they're simple enough to implement!
If you want to use them on your own e-commerce site, then here's what you need to know: how do I set up a promotional code? How do I track it? And how do I give it away?
The answer is that there are many tools that make all of these things possible. If you are using WooCommerce then, our plugin WooCommerce MailChimp Newsletter Discount can help increase your email subscribers and sales at the same time. It automatically creates and sends discount codes to the subscribers as well. So, that you can focus on other important areas of your business.
4) Offer Free Shipping Options
Did you know that customers perceive retailers who don't offer free shipping as being more expensive? In fact, 68% of shoppers reported that they abandoned their cart because of shipping costs.
By offering free shipping options, you have an opportunity to increase your revenue and lower your total costs by keeping customers happy. Be sure to choose a reliable carrier, as well!
5) Add Return Policy Information
One of your main objectives as an e-commerce retailer is to build customer trust and make a purchase from you a safe, risk-free investment. To do so, make sure you put your return policy information on each page of your website.
By displaying return policy information prominently on every page, you'll establish customer trust, reassure customers that they won't be stuck with items they don't want or need and reduce the likelihood of returns.
If your company has a generous return policy, using social proof—for example, 90% of our customers who purchased item A also bought item B because…—can further bolster credibility and increase sales. In addition to your own shop policies, review those of major marketplaces where you plan to sell.
6) Use Product Filters
When it comes to creating product filters, you want to make sure that your customers can easily find what they're looking for.
Before implementing product filters on your site, you should know exactly how customers will be using them. Are you expecting customers to use them at checkout? Will your website visitors use them as a way to browse products?
If so, have an all option on each filter. This will help ensure that even if a customer doesn't select a specific color or size, they can still see all items in a particular category.
7) Offer Multiple Payment Options
It's a good idea to have multiple payment options on your website so that your customers are able to pay for their orders in their preferred method.
This way, you'll maximize both conversion rates and customer satisfaction. As a result, make sure you accept credit cards, PayPal, and e-checks. Additionally, try experimenting with other payments services to see if they can help increase sales on your site.
For example, Facebook recently announced a new peer-to-peer payment platform called Pay with Facebook which might be worth experimenting with since it seems that online payments are becoming more social. If a lot of people use Pay with Facebook instead of traditional credit cards on your site (which they will do if they feel like they're paying less), then revenue could significantly increase!
8) Use User Reviews
One of your top priorities should be ensuring that customers are satisfied with their purchases. The best way to do that is by encouraging a high volume of positive user reviews.
Don't just offer incentives for people to leave you 5-star reviews—instead, work hard at providing a great product and customer service experience.
There are numerous e-commerce website elements you could have on your website (think search engine optimization, dynamic pricing, social media integration, among others), but none may be as important as optimizing for user reviews. So remember: make your customers happy and don't forget to ask them to leave a review!
9) Incorporate Videos Into Sales Copy
No one wants to read an essay when they're looking for more information about a product or service. Short and sweet copy is ideal, but video can work better than either.
If you are unfamiliar with video production, however, it's important to hire someone who knows what they're doing. Video is not just a sales tool; it should be a part of your overall brand marketing strategy as well. Incorporating videos into your website's sales copy can increase conversion rates by up to 80%.
10) Allow For Customer Q&A/Comments
For your customers to feel satisfied and for you to feel like you're catering to them, it's important to allow for feedback. One of the best practices is to allow them to leave reviews, photos, and even Q&A about different products.
This helps other users find out more about the products and gives them a chance at getting answers. It's also helpful if someone has a question you've answered before in an email or on social media – allow your customers to refer them back!
Conclusion
Start to make your move! The world of e-commerce is a big place, and there are plenty of niches you can pursue.
By incorporating some or all of these elements, you'll be able to set yourself up for success. Additionally, remember that these are just elements that a successful e-commerce website should have. Ultimately, creating an online store will depend on your industry, niche, and goals; however, these elements can act as helpful guides for your journey toward getting set up.
If you found this post useful, then please take a moment to share it on social media. Subscribe to our YouTube channel for videos related to WordPress plugins and themes. Follow us on Facebook and Twitter for more updates.
You may also like:
How to Customize WooCommerce Product Page with Extra Options
10 Best WooCommerce Shipping Plugins for Rates, Labels, and Tracking