Description
WooCommerce MailChimp Newsletter Discount is an add-on for WooCommerce which will help you to gain your visitors email address just by giving them discount. In this way a visitor can be easily converted into a potential customer easily.
By this plugin you can show a form in the popup or you can also show a simple form by the help of Shortcode. So when user will make subscribe with their email id the plugin will add the email to your MailChimp newsletter and in return it will send them an unique coupon code to their registered email address.
In this you can easily gain your user email address just by giving some discount which will be really helpful to boost your sales as well.
Features
Easily setup MailChimp Campaigns just by enter your MailChimp API Key
Easily setup Webhook for double optin feature
Options to show subscribe form in the popup and simple form
Exit intent option available for the popup
Option available to use discount feature or make this as normal signups for the user
Admin settings feature available to make the popup and form matching your site color and looks
Pre defined variables available to use in the email message
Dynamic signup source option available. From where you can easily set from which page or site the user has made subscribed.
Plugin uses WooCommerce native coupon feature. So you can customise all most each and every part of the coupon
Easily change email from name and email from address
Plugin creates unique coupon for each use so you don't need to worry about that
Option available to show the popup based on cookie length
Easily configure to show the popup on mobile devices
Works with Elementor Popup. You can use this [wc_mailchimp_subscribe_discount] shortcode for Elementor Popup.
Integration with MailChimp's official Popup – Enable this feature to automatically send discount coupons to users who sign up via the MailChimp popup.
New email variables have been added to improve personalization
Save Discount Coupons to MailChimp account
Send discount coupons directly from your MailChimp email campaigns using the coupon Merge Tag
Option to disable WCMND discount emails
Change the Email, First Name and Last Name Placeholder Text
Make the First Name and Last Name required
Notification: Get email and desktop notification when someone subscribes to your newsletter through the plugin.
Many more features coming soon…
Important Questions
WooCommerce makes it simple to create and customize an eCommerce store. So, whether you own a small or large business, this will help to grow it. This also makes it simple for you to manage your online store. Furthermore, it is critical to locate a reputable woocommerce plugins service provider. So that you can achieve your business objectives.
As a result, Zetamatic provides the best plugins for your eCommerce website. We provide tools and plugins with incredible features. For example, the well-known eCommerce plugin woocommerce MailChimp newsletter discount plugin. It also aids in the delivery of your marketing abilities in a flexible manner. It is also useful for creating forms and popups that entice visitors to become subscribers. They also receive a discount coupon, which aids in the conversion of subscribers into potential customers. So, here's how this plugin can help your company:
For starters, it allows you to assign each customer to a specific list based on the type of product he purchases.
The plugin can convert website visitors into subscribers. Furthermore, sending the discount coupon increases the likelihood that those subscribers will convert into potential customers.
It also includes a button that allows customers to choose whether or not to subscribe. You can also have an opt-in email sent to users to confirm their sign-up.
It is possible to automate the distribution of discount emails.
In What Ways Does The Mailchimp For Woocommerce Plugin Benefit You?
It is a very useful plugin for quickly growing your email list. As a result, you can add customer information to the MailChimp audience. In addition, we provide some fantastic features in conjunction with this plugin. It is a very efficient method of running email marketing campaigns. As a result, it can help you in the following ways:
Your eCommerce customers lists can be easily added to MailChimp.
It will also be simpler to outline your customers based on their preferences.
You can design unique campaigns for each customer. It can also aid in the systematic management of your contacts. As a result, your sales will rapidly increase. So, with our Zetamatic plugin, you can easily manage all of these things.
You can manage email marketing campaigns for your online business using our MailChimp for woocommerce plugin.
Furthermore, Mailchimp allows you to promote new products and offers to stay in touch with your customers.
As a result, it is a very effective tool for promoting your business online and increasing sales.
As a result, it is critical to keep your company's targeted campaigns organized. We assist you in achieving it and increasing your sales conversion rate.
Why Would You Need An Email Subscription Popup Plugin For Your Site?
When someone visits your site, this plugin will display a fantastic newsletter subscription popup. As a result, using this plugin can assist your visitors in receiving updates via email. Zetamatic provides the best email subscription popup plugin to assist you in increasing your subscriber base.
You can also embed videos in email newsletters. You can also use this plugin to create an email sign-up popup for Mailchimp. As a result, you can easily create eye-catching pop-ups for your website using the Zetamatic plugins. You can use this to show a form to your visitors that promote a message or an offer.
With the plugins, we provide some fantastic features. As a result, we make it simple for you to create embedded email signups. As a result, you can include a form in your posts, pages, or sidebar widgets. You'll also get a built-in user interface and templates. This will make it simple to create popups in a matter of minutes. You can also customize and configure the pop-ups to your liking. Furthermore, it is quite simple to create a pop-up:
Install and activate the WCMNDE plugin from the Zetamatic site
Create a new email subscription pop-up
And, get your Mailchimp API key
Then, connect to Mailchimp and configure the service
Lastly, publish the popup
How Does The Woocommerce Email Popup Help In Bringing Back The Customers To Your Site?
After you have carefully crafted your online store and people begin to discover your website. But you can't just sit back and hope for an increase in sales. As a result, you must take steps to increase your conversion rate. As a result, pop-ups are the best way to accomplish this. You can also use Zetamatic to create visually appealing designs that will entice your customers. You can gain more quality traffic and sales by increasing your conversion rate. As a result, we provide the best software for creating a woocommerce email popup, which allows you to connect with more visitors and convert them into customers. Furthermore, we recommend the following strategies for you to try:
Exit pop-ups can be used to offer a discount. As a result, using a pop-up builder like ours is extremely beneficial. You can design and personalize them with different colors, background images, and custom CSS options.
Provide a discount that is only valid for a limited time.
You can also use content upgrades to build your mailing list.
You can create blogs or content pages that are relevant to your customers' needs. It is also the most effective way to drive organic traffic to your website.
As a result, email popups are a very useful asset for growing your email list. Furthermore, it is the most effective way to add new leads to your list.
If you run an eCommerce site, newsletters are a must-have. Because it aids in the development of buyer trust. You can also promote your products and services. Also, keep in touch with previous customers regularly. So, to make this process easier, you'll need a good plugin for your website. This can assist you in increasing traffic and sales to your online store. As a result, the Zetamatic woo-commerce newsletter plugin includes all of the functionality that you may require for your eCommerce store. In addition, we provide a comprehensive interface to help you with your marketing efforts. We offer some excellent templates. You can, however, create your email tool. Furthermore, you will have a better pricing option for fantastic tools with useful features.
It is difficult to increase sales for your woocommerce store. As a result, always take the first step in the right direction. If you intend to send out a newsletter for your store. Then sign up with Zetamatic and you'll be up and running in no time.
CHECKOUT OUR EXTRA FIELDS ADDON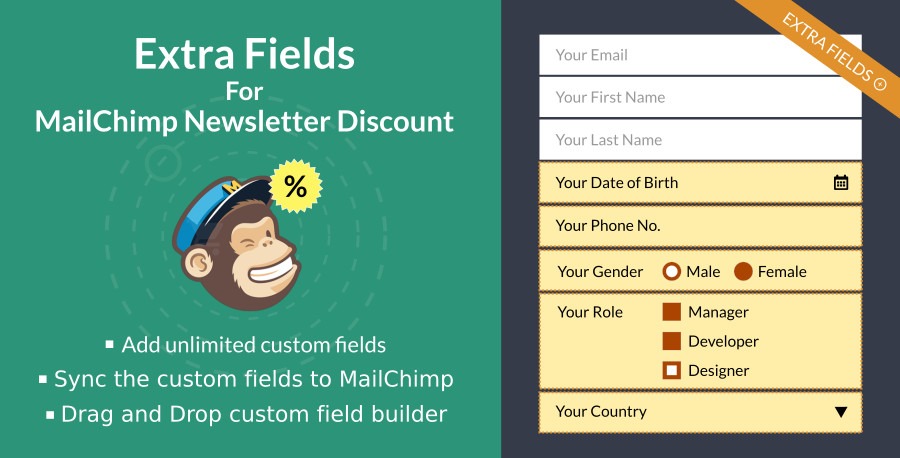 Download the Extra Fields Addon plugin
Disclaimer: This plugin is not developed by or affiliated with Mailchimp® in any way. Mailchimp® and its logo are registered trademarks of The Rocket Science Group.
Reviews
The WooCommerce MailChimp Newsletter Discount plugin helps you get people's emails and sends discount, so that they can buy from you! It works perfectly fine. Great support.
This plugin is so easy to use, even a monkey could do it! It took me less than 5 minutes to set up this awesome popup. And if you get lost, just check out the documentation – it's really helpful!
This plugin is super easy to use and very flexible. I was setting up the discount popup within minutes. The plugin is well documented and it's easy to find your way around.
I liked the plugin, it was easy to setup. I had a popup that would appear after a customer added items to their cart. It's also very flexible. I could change the color, the font, and the button text in the popup.
I needed a popup to get my website visitors email addresses when they are browsing my store. I found this plugin and it has worked great! I highly recommend this plugin.
The ease of use is fantastic, the price is super affordable. My clients are happy and they've been getting higher conversions. It's a no-brainer!
I used this plugin to create a discount popup. It was super simple to setup. I had a popup that would appear after a customer added items to their cart. It's also very flexible. I could change the color, the font, and the button text in the popup.
After a thorough research and my usage experience, I think WCMND is the best plugin that you can use to add many features to your popup. It is very easy to use, and you can also get support from their customer service via live chat, email. They also have many tutorials on their website to help you get started. If you are not a coding expert, I highly recommend you to use the WCMND.
WCMND extended is a powerful WordPress plugin, with almost unlimited features and functionalities. With so many features in one plugin, it's hard to remember how to do everything. That's why I was really happy to see this plugin. It reminded me that there's some features of WCMND that I haven't tried yet. And I'm really happy to have this plugin around to remind me to do so. Thanks so much!
I've been using this for a couple of months now, and it does what it claims. It is not the most intuitive plugin I've used, but with a little time it works great and has saved me a lot of work.
The ZetaMatic team did a great job at solving my problem. I was having some problems getting my plugin to work. The team was very helpful and quick to respond. They made the necessary changes and the plugin works great now!
It does very well what it is expected to do, and has a very convenient settings page, so making changes are easy. The plugin itself is very lightweight and fast.
I've been using this WooCommerce MailChimp Newsletter Discount for a while now and it's been a great tool to have. I've been able to gain a lot of subscriptions from it and even increase my email list. It's really quick and painless to set up and it's easy to use. It's definitely worth the price.
I've set up the plugin like I was recommended, within 5-10 minutes. I created a popup easily that appeared on my website. It's exactly what I need because my store sells items that are premium to other stores, so I need to convert my visitors into subscribers. My visitors are more likely to sign up for my newsletter after they added items to their cart to get the discount. This plugin is very effective and easy to use.
It's simple to use and does an excellent job of what it's supposed to do. I appreciate how easy it is to stylize your content.
The plugin is quick to setup, activate popups, works perfectly and the support is quick. The support quickly solved the issue. Thank you.
The plugin is simple to use, works flawlessly, and saves a significant amount of time. I can easily make popups and display them on my website.
I have approximately 1700 subscribers, and the plugin has greatly helped in the rapid obtaining of these subscribers. Support is prompt and helpful in resolving my issues.
The WooCommerce email popup has greatly helped my online store in rapidly increasing more subscribers. Also, using this plugin is so easy. Since I am a beginner and don't have much knowledge about using such plugins. But, the ZetaMatic plugins are user-friendly. And, it is useful in building the email list and generating new leads. And, the popups on my landing page turned out to be very attractive. Moreover, I was able to collect a substantial number of new email leads. I am completely satisfied with this plugin.
ZetaMatic's email subscription popup plugin is one of the best plugins I have used on my website. It is the most effective method for increasing newsletter subscribers. Furthermore, this plugin serves to be useful for promoting new products and delivering special offers to the customers. Besides, it is also possible to change the look and feel of emails sent to my subscribers. I have used both the free and paid versions. And, it is fantastic, with several useful features that I actually needed on my website. I heartily thank ZetaMatic for this amazing plugin.
I wanted to include a visually appealing form on my WordPress website. I was able to create one using a shortcode thanks to ZetaMatic's WooCommerce MailChimp Newsletter Discount plugin. Furthermore, it is very simple to quickly create eye-catching pop-ups and forms.
The best part is that it allows you to create discount forms that can be placed using a simple shortcode. Furthermore, using this plugin makes it very simple to customize the fields. This plugin was extremely helpful in making my website much better.
it was simple for me to add my woocommerce customers' details, along with their other information, to my MailChimp list. And the features of this plugin are simply incredible. This has allowed me to easily carry out my marketing campaigns. And, as a result, it significantly increased the revenue of my online store.
The ZetaMatic's WooCommerce MailChimp Newsletter Discount plugin is extremely beneficial. It helped me to create appealing popups and forms for my website. And, it is also very simple to use, thanks to it's simple interface. It also supports powerful addons that allow you to send reminder emails and create an unlimited number of custom fields. In addition, I wanted to include a validation message to my fields. And, this plugin made it very simple for me to do so. This plugin is totally worthwhile and suitable for my website. Strongly recommended!
Using the popup, our email list is growing daily. It's easy to start and use. The customer care is very helpful.
The most effective plugin for sending out discount emails. I've used other plugins before, but this one is far superior. Simple design, a plethora of tools, ease of use, and excellent support. Highly recommended…
The WooCommerce MailChimp Newsletter Discount plugin is exactly what I was looking for; it's ideal for sending discount coupons to users. Every time it works flawlessly. I'm pleased with my purchase.
Does exactly what it says, a simple and old-style design that works like a charm. You get more for what you paying, you couldn't ask for anything more. And the support staff is extremely helpful.
I contacted the support team because I was having trouble configuring my plugin to do what I needed. They responded quickly and assisted me in precisely configuring my plugin as I requested. My website is now fully operational, thanks to the plugin. I will most certainly return because excellent support is critical when purchasing plugins.
Thank you kindly!
It greatly aided me in resolving some critical email marketing issues. What happens after a user subscribes to your newsletter? For my ecommerce store, it automatically sends a discount code to the subscriber without requiring me to make any critiical settings. This is an easy way to get started, and it comes highly recommended.
The plugin is easy to use and does the job very well. No issues, thank you team for this awesome product.
Don't have anything negative to say about it. Great plugin.
The WooCommerce MailChimp Newsletter Discount plugin is simple to use and performs superbly on my website. Create it once and leave it alone; it will do its job without a hitch. The product is well-priced, and the support staff is extremely helpful. They pay attention to my questions and respond quickly. After using this plugin, my store's growth increased by 30%.
The plugin meets all of our requirements and addresses all of our concerns. Very professional support team, helped us with the setup and applying features.
This plugin has greatly improved our email marketing approach and has made a major impact on our ability to dynamically drive sales with shorter lead times.
I needed something for simply and effectively creating a popup and collecting leads and this plugin works great. There are a plethora of customization options, and a fantastic and intuitive user interface.
With this plugin, I created a simple form in a matter of seconds, as well as a popup that I placed on my website. That was exactly what I needed.
It was what I needed, I have no complaints.
the customer service is helpful and quickly fixed my issues.
The best choice for my online store. Works really well, support is great.
Good plugin from the ZetaMatic team again.
I can't believe it, it helped me increase the number of subscribers so quickly. Well done
The Plugin works like a charm and the support is amazing. Answering in no time and solving my requests properly. Thank you very much!
You must log in to submit a review.