Are you looking for the best WooCommerce Gift Cards Plugins for your store? Then you've come to the right place. Gift cards are an excellent way to provide consumers with a means to shop or gift their friends. It can help your store's cash flow and give you additional ways to increase revenue.
When the customer is unsure whether his or her gift will be appreciated by the recipient, or when the customer is unsure of the receiver's taste or interests, gift cards are an excellent gift option. They can simply purchase a gift card and give it to a friend or family member. As a result, the recipient of the gift card can spend it as they see fit.
Gift cards are an excellent choice even during the holiday season. The receiver can buy what they want and be happy.
Moreover, these are an excellent strategy for acquiring new customers and increasing customer loyalty. If you haven't already started using them in your store, you should do so right away.
There may be many options, but don't get overwhelmed. We have compiled a list of the 5 best gift card WooCommerce plugins for you to choose from and begin using right away.
How the Gift Cards for WooCommerce Work
You create different amounts of gift cards using the WooCommerce plugins.
The customer pays the amount of the gift card and gets the gift cards via email.
The gift cards are accepted in your online stores only. These are called closed loop cards.
Customers can use gift cards to purchase products from your store. They can share it with their friends or family members if they run out of gift ideas.
Gift cards can be used in place of cash or credit cards. Furthermore, these are more convenient and user-friendly shopping options.
Now, let's have a look at the 5 best WooCommerce gift card plugins.
Top 5 Free WooCommerce Gift Cards Plugins

The YITH WooCommerce Gift Cards plugin is one of the most popular options available on WordPress. The plugin is easy to use and quick to create gift cards. The user interface is similar to Amazo's, if you have used it then you can relate to it.
You can set gift cards purchase amount, customize the gift cards by uploading custom images, enter sender and receiver's email address, name, attach a message to the gift card, and done, you are ready to start offering gift cards in your store.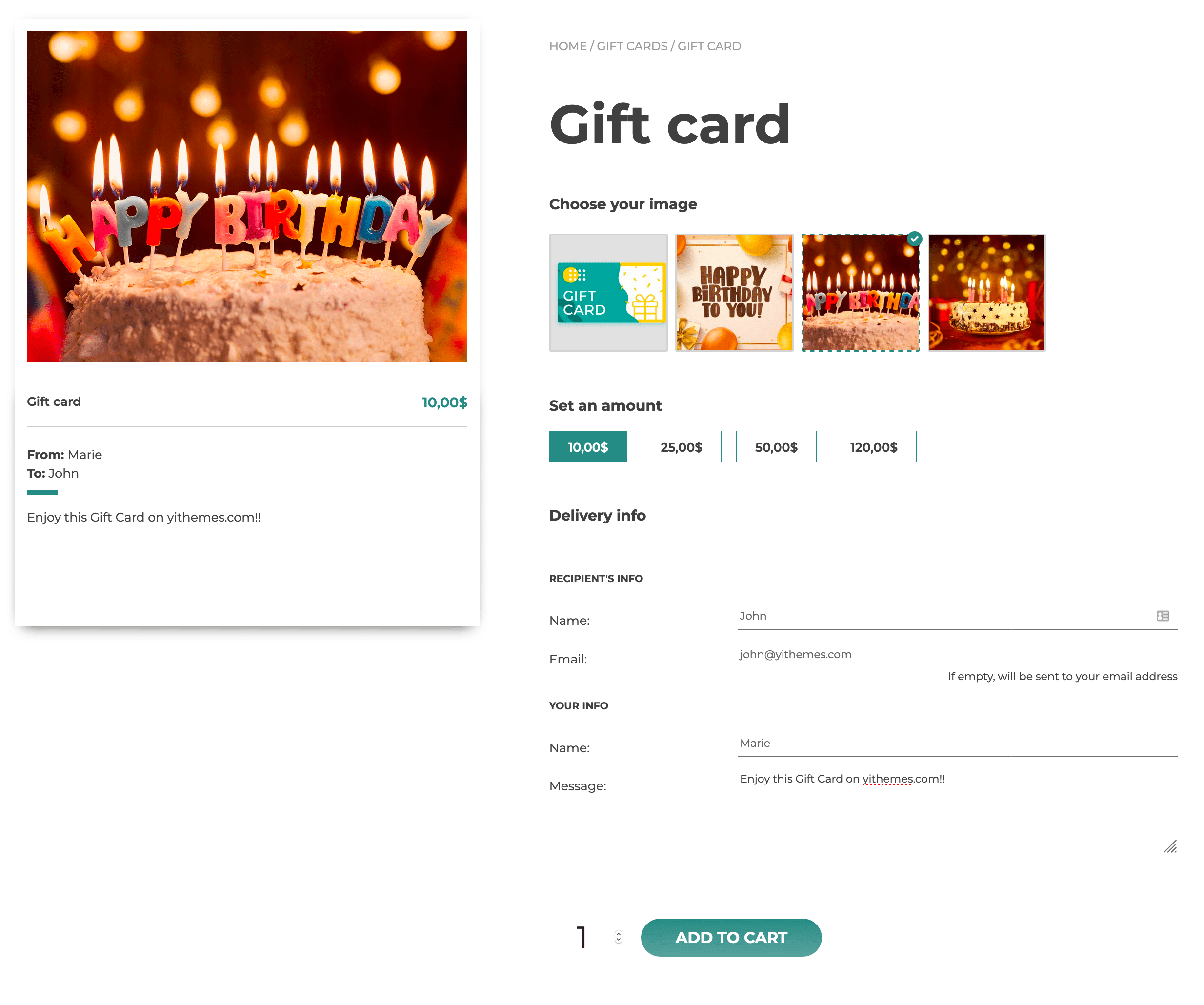 Key Features
Create virtual or physical Gift Cards
Set the gift card amount
Create a template gallery to allow customers to choose from a design
Customize the sender, recipient's name, and email
Add gift card message
Translate the language of the plugin using WPML
Price
The plugin is completely free. You can also upgrade to the pro version for additional features and customization options. The pro version costs $129.99 per year.


PW WooCommerce Gift Cards is another useful plugin on our list. It is the current most popular option for creating gift cards on your WooCommerce store. This method of purchasing gift cards is comparable to that of Amazon.com. As a result, customers will find it easier to use. When making a purchase, they must specify the amount, the recipient, and a message.
As the admin, you will find it a lot easier to create gift cards using its simple and well-organized interface. But you will also require the PW WooCommerce Gift Cards Pro to create and manage gift cards. The free version only lets you do some basic settings such as Email Design, and the option to use the settings.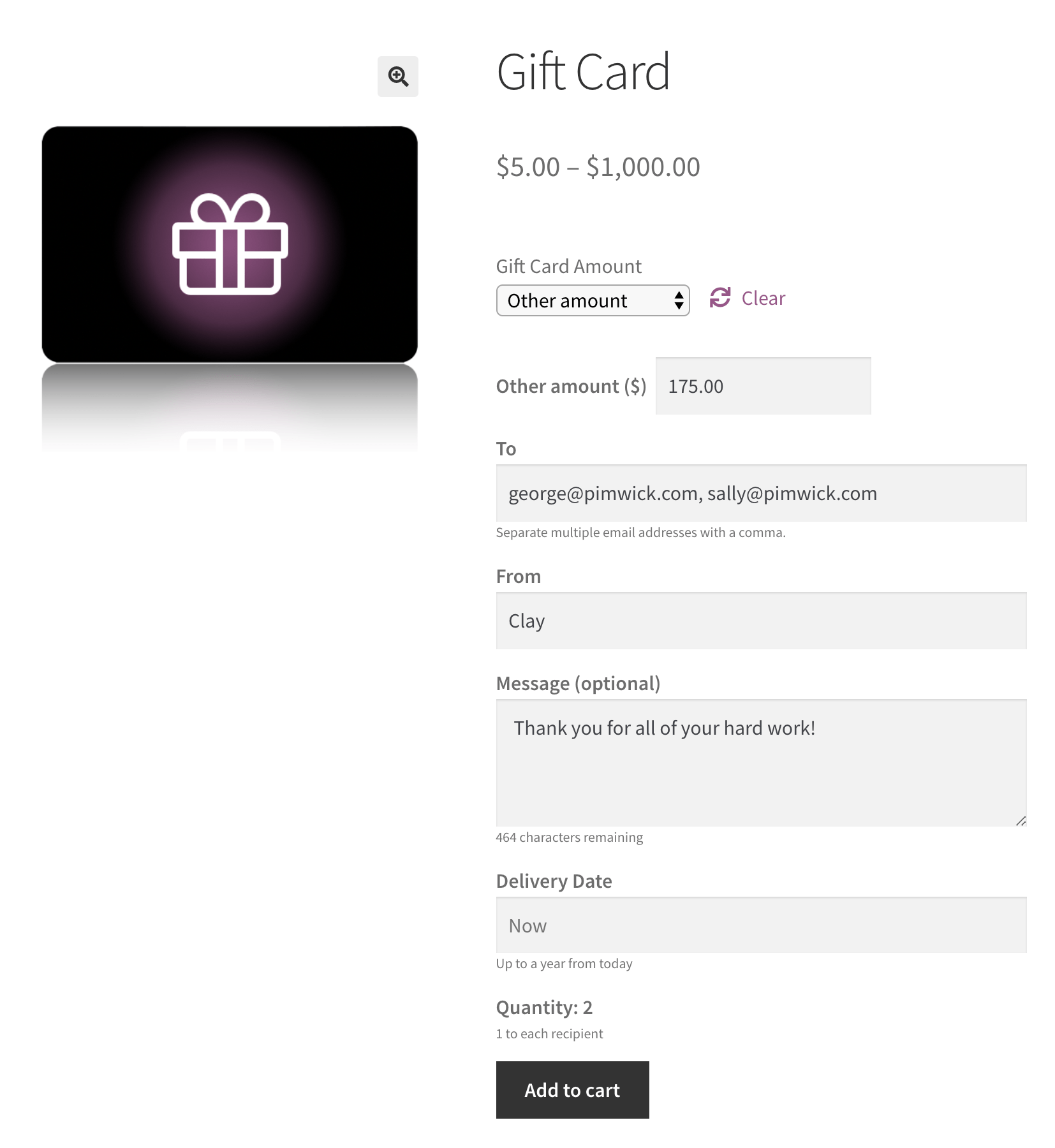 Key Features
Well Designed Dashboard
Email Designer option to customize the colors of the email template
There are only a few settings options available with the free plugin. To fully utilize the plugin, you will need to use the pro version.
Price
It comes with a free version, but you cannot create gift cards in your store with it. To get started, you must purchase the pro version, which starts at $59 for a single site for one year.


Another useful gift card WooCommerce plugin is the Gift Up! Plugin. This can be used to create and sell gift cards in your store as well as on social media sites like Facebook.
Please keep in mind that to use the plugin, you must first create a Gift Up account and obtain your API key. It won't be a problem because account creation and setup are quick. Please keep in mind that you will also need to provide the business information first. The gift cards can then be created. The plugin does not include many settings because you configure everything on the giftup website.
After you've completed the setup, you can choose where you want to sell the gift cards; when you use the WordPress option, you'll receive your WordPress API key. Then, paste the API key into your plugin.
And you'll be given a shortcode to display the gift card; copy the shortcode and paste it wherever you want the gift card to appear on your website.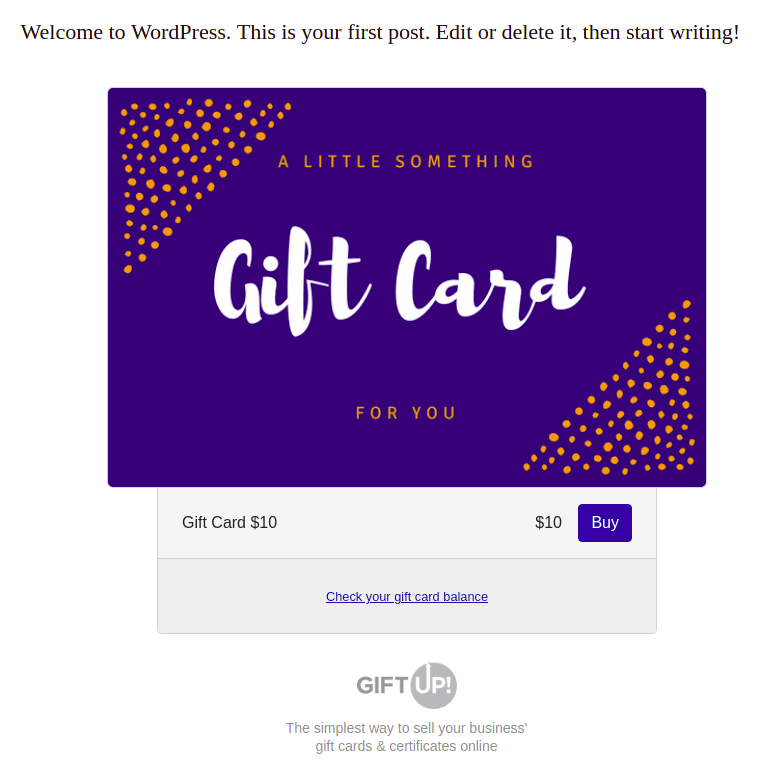 Key Features
Customize the Gift Card amount or allow customers to select their gift card values.
When a customer purchases an item or spends a certain amount, gift card promos are triggered.
Show gift cards anywhere on your site using Shortcode
Dedicated dashboard and reports to display total revenue, balance issues, redeemed, expired, and other useful data.
Personalize the email subject lines, images, and messages, and include a logo.
You can create your gift card designs or choose from a selection.
Customize the business name, country, currency, time zone, language, etc.
Price
The plugin is completely free to use, but they do charge a small fee of 3.49% when you sell a gift card.


Ultimate Gift Cards for WooCommerce plugin allows you to create, sell, and manage gift cards at your WooCommerce store. This plugin also allows your customers to purchase gift cards and gift them to their loved ones via email. The recipient can use this card to make purchases at your store and he/she can also recharge/redeem these cards at your online or retail store.
Many options can be enabled or disabled, including tax, individual use, and free shipping. You can also change the coupon code length, gift card prefix, expiration after days, minimum spend, and a variety of other settings.
You can also change the email subject, logo, width, message, subject, and so on. At first glance, it may appear overwhelming, but once you get used to it, you will appreciate the plugin's complete control.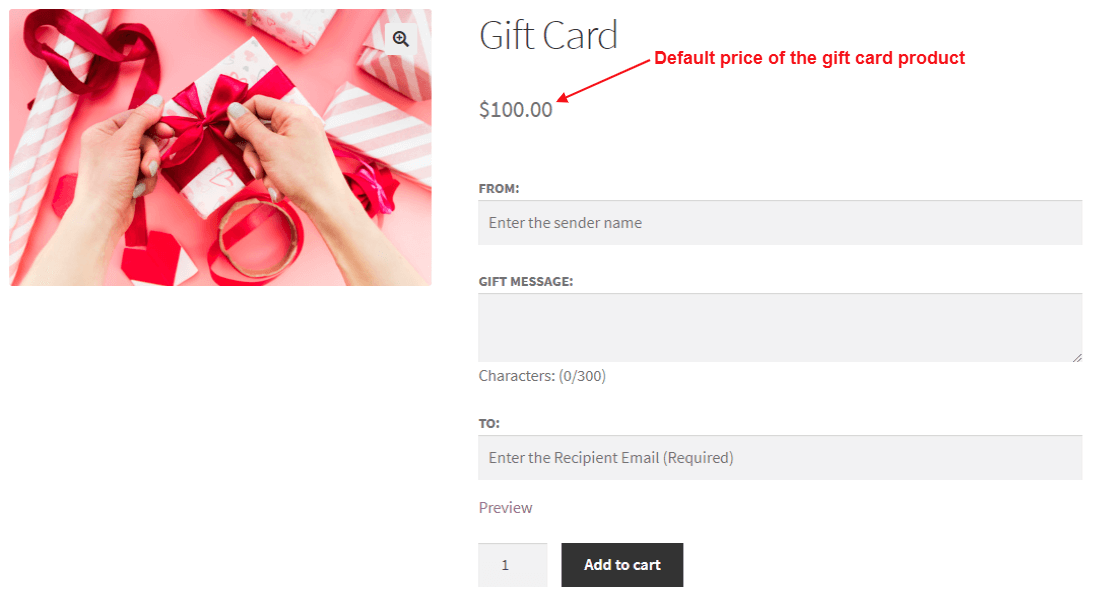 Key Features
Set gift cards aside for individual use, so that customers cannot use another coupon in addition to the gift card
To prevent customers from purchasing specific items, exclude products, categories, or sale items
The WooCommerce Gift cards plugin provides four pricing options.
Create and sell WordPress Gift Cards
Customize Gift Card Templates
Flexible Delivery/Sharing Options
Customize Coupon Codes
Tax Calculation
Gift Card Compatibility with Price Based on Currency
WPML Multilingual Support
Price
The plugin is completely free to use. This plugin has more exclusive features to outstand your Gift Card program from your competitors with its premium version, features like 20+ pre-designed and create new gift card templates with PDF support, your own branded gift cards, and so on. The plan starts at $69 for a single site.


And at the end of our list, we have Gift Cards (Gift Vouchers and Packages) plugin to create and sell unlimited gift vouchers. The plugin is simple and easy to use. You can start creating your templates, giving the item details, price, images.
Moreover, from the plugin's setting, you can enable the gift cards, choose the styles, customize the names, symbols, colors, and many more options. Customers can use your store to create and send personalized gift cards. This plugin is also simple to configure and manage for store owners.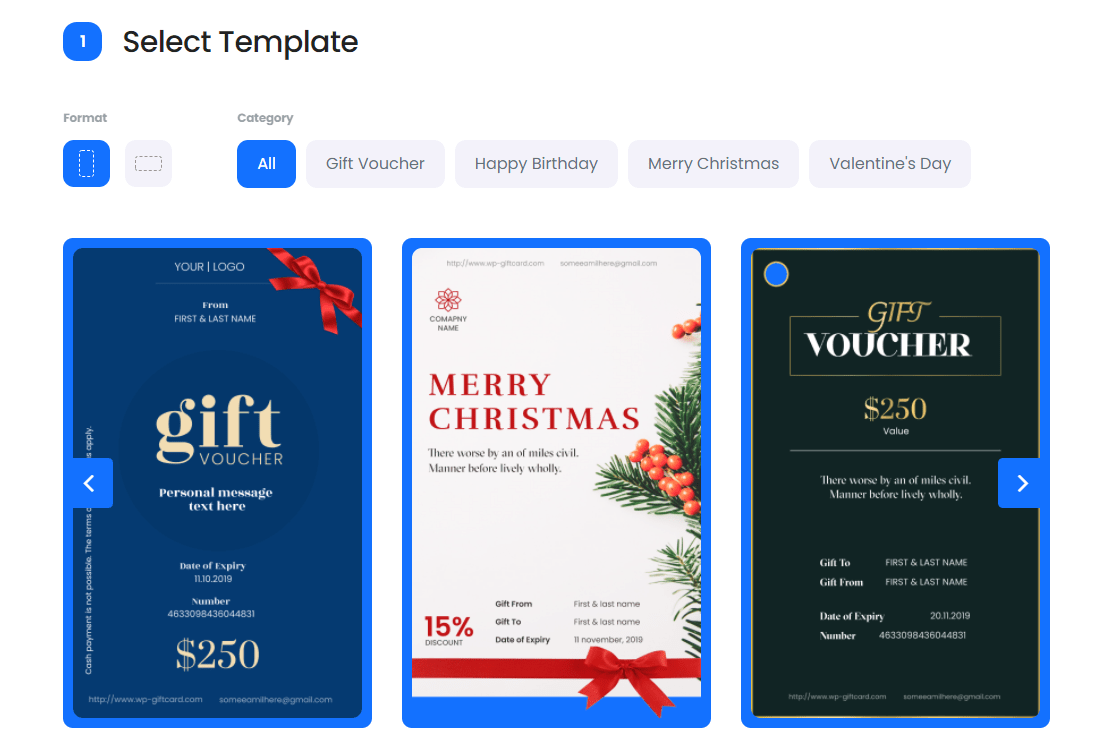 Key Features
Easy to create gift cards
Customers can purchase gift cards/vouchers in the same way they would any other product. They can also select card designs, add custom card values, and personal messages.
Based on the purchase date, set an expiration date based on your preferences (fixed date or in days).
Modes of purchase and payment that are both convenient and secure. Gift cards that have been proven to be valid and authentic (with coupon codes) and will deliver your product or service at a later date at a physical location.
You can track the purchased voucher codes using its reporting and tracking features.
Easily create templates for various themes such as 'Birthday,' 'New Year,' 'Valentine's Day,' and 'Independence Day.'
For your gift cards, you can accept postal orders. If you want, you can enable your customers to purchase your own printed gift cards/certificates.
Price
The free version is free to use. However, you can opt for its premium version for more advanced options. The premium version starts from $49 for a single website.
Conclusion
All of the Gift Cards for WooCommerce plugins have similar features and are close in price. If I had to pick one for our store, I would go with either the Gift Up or the YITH WooCommerce Gift Cards plugins.
When selecting one, consider the support, upgrade cost, and features.
Let us know which one you liked best and will be using. If you have any suggestions or questions, please contact us via Facebook or Twitter. Subscribe to our YouTube channel for videos on plugin installation, tips, and guides.
You may also like:
Free Menu Plugins for WordPress Sites 2021