WordPress is the best platform for starting a small website to a large-scale e-commerce business website. It's a feature-loaded, scalable, and secure platform to start. With podcast listener numbers increasing by more than 20% in the last few years, there has arguably never been a better time to jump on the podcasting bandwagon.
With this increase in demand in mind, the WordPress community responded to its own needs by developing several WordPress podcast plugins that allow you to launch your own podcast directly from your website.
We've hand-picked some of the best WordPress podcast plugins for both new and experienced podcasters in this article.
Let's have a look at the 7 Free Podcast Plugins for WordPress the Listeners Love

Seriously Simple Podcasting is a user-friendly podcast plugin with a plethora of features, and it is one of the best podcast plugins for WordPress.
The plugin simplifies the setup and management of your podcast from the WordPress blog dashboard. Seriously Simple Podcasting is simple to use, and getting started takes little time and effort.
With the Seriously Simple Podcasting plugin, you can manage multiple podcasts from a single website, each with its own RSS feed. It also lets you make audio and video podcasts. Moreover, you can view statistics and additional add-ons.
It has its own podcast hosting platform called Castos podcast hosting, which you can use to host your files if you want. Alternatively, you can host the files wherever you want.
Using simple shortcodes, the plugin also allows you to display a podcast episode list, a single episode, or an entire playlist anywhere on your WordPress website.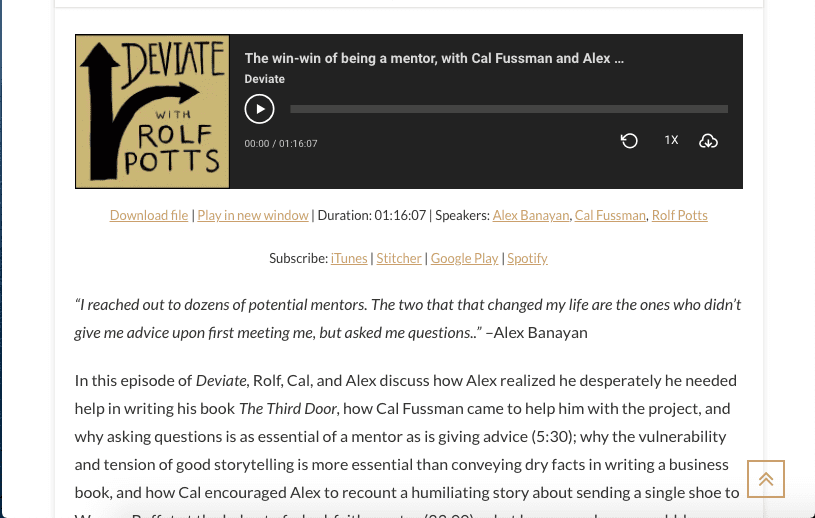 Key Features
Manage multiple podcasts from the same site and create separate RSS feeds for each podcast.
Make unique subscribe buttons for each podcast you produce. To add episodes, playlists, and archives to your WordPress site, use shortcodes and widgets.
Allows you to create video podcasts on your YouTube channel.
You have the option of customizing the podcast media player to your liking.
Podcasting (audio and video) is supported.
Price
The plugin is completely free to use. However, if you want to host your podcast with Castos, the price starts at $190/year for unlimited storage and bandwidth.


Podcast Player makes it simple to display and play your podcast episodes by using the podcasting feed URL. It's an absolute must-have for your podcast website.
Allow your listeners to easily access all of your episodes from any page or even all of the pages on your website
You can display sharing options on your podcasts letting the users easily share their favorite podcasts on social media.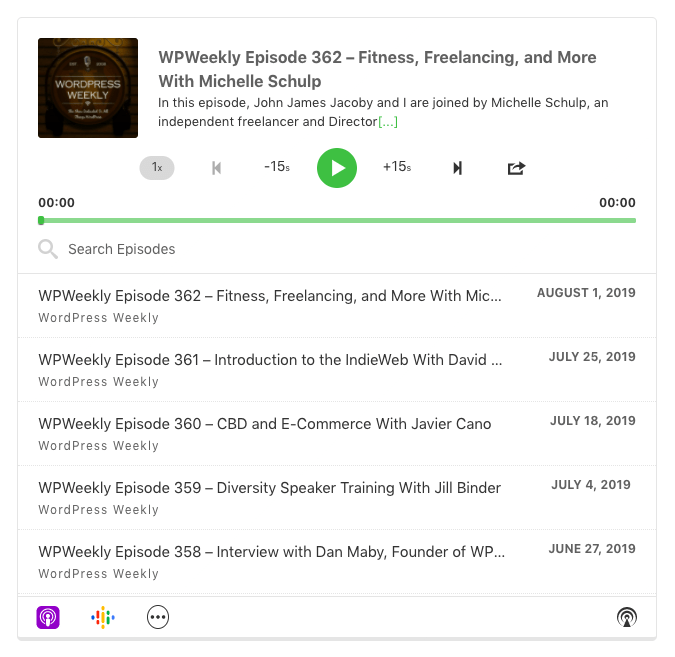 Key Features
Simply enter your podcast's feed URL to display a responsive podcast player.
You have the option to change the details of your podcast that were retrieved.
Individual player elements can be shown or hidden.
Allow your podcast listeners to share your episodes.
Ajax live search for podcast episodes.
It is possible to have multiple podcast player instances on a single page.
The layout automatically adjusts to the width of the podcast player.
Price
You can use it for free with some restrictions. However, if you want more advanced features, you can upgrade to the premium version, which starts at $39.99 per year.


PowerPress Podcasting is the most popular WordPress podcasting plugin. The PowerPress Podcasting plugin was developed by podcasters for podcasters (Blubrry Podcasting).
It includes options supported by the most popular podcasting apps and directories, such as Apple Podcasts, Google Podcasts, Spotify, Amazon Music, and others.
To meet the needs of both beginners and professionals, the plugin includes simple and advanced modes.
PowerPress also allows you to have multiple podcast feeds on the same website. As a result, you can easily create multiple podcast channels as needed.
You can also create subscribe pages for your podcast using a simple shortcode in PowerPress, or you can add a responsive subscribe sidebar widget to any page of your site.
The plugin includes SEO features that aid in podcast discovery across various search engines and podcast libraries.

Key Features
It has basic and advanced modes for both beginners and professionals
Designed by podcast experts to keep you up to date on the latest features
Integrated HTML5 media player with YouTube and other support, allowing you to easily embed your video podcast into WordPress
Simple integration with MemberPress allows you to create a paid podcast with extra episodes, an ad-free experience, or more SEO tools to increase discoverability and growth.
You can import your podcast without losing episodes from SoundCloud, Libsyn, PodBean, Squarespace, Anchor, or any other valid podcast RSS feed
Supports audio and video players
Create a subscribe page for responsive websites by embedding a subscribe shortcode and a subscribe sidebar widget.
Price
Without using the Blubrry hosting, the plugin is free to use. If you want to use Blubrry to host your podcast, the plan starts at $12/month for 100MB of monthly storage.


Podcast Importer SecondLine, as the name, suggests it's a podcast importer plugin for a WordPress site. It lets you sync your podcast RSS feed with your WordPress site.
You can easily import your podcast into standard WordPress posts or a custom post type (if you have an existing one).
The plugin fully supports popular WordPress podcasting plugins like PowerPress, Seriously Simple Podcasting, and Simple Podcast Press, and it works even better with podcast themes created by SecondLineThemes.
The plugin allows you to import episodes into existing custom post types, assign categories, import featured images, and do other things.
Furthermore, the plugin allows for the continuous import or "Sync" of podcast RSS feeds, so that every time a new podcast episode is released, it can be automatically created within WordPress.
You can also set multiple import schedules and import multiple podcasts from different sources at the same time. (For example, when importing multiple podcasts from different feeds into a single website.)
The plugin also allows for the automatic import of native / embed audio players from 15+ podcast hosting providers, including Buzzsprout, Megaphone, Pinecast, Captivate, Transistor, Anchor.fm, Simplecast, Podbean, Whooshkaa, Omny, Ausha, Spreaker, Audioboom, Fireside, Libsyn, and others.
Key Features
You can import episodes into pre-existing custom post types, assign categories, and import featured images
Continuous import or "Sync" of podcast RSS feeds adds new podcast releases to WordPress automatically
Set up multiple import schedules and simultaneously import multiple podcasts from various sources
automatic import of native / embed audio players from 15+ podcast hosting providers
Price
The plugin is completely free.


WP Podcast is an easy-to-use podcasting plugin for WordPress that provides a plethora of options and functionality for running your podcasting website. There are no other complex configuration wizards and it is a beginner-friendly plugin.
It accepts a variety of file formats, including mp3, wav, and ogg. You can also use this plugin to create an unlimited number of podcasts.
This plugin is fully responsive, allowing users to enjoy the content from any device, whether mobile, tablet or desktop. It also includes a sidebar widget for displaying an audio player in the sidebar area.
The WP Podcast plugin is highly customizable, allowing you to change the plugin's look and feel to suit your needs. Furthermore, you can use the shortcode to embed an audio player anywhere on your website without having to write any code.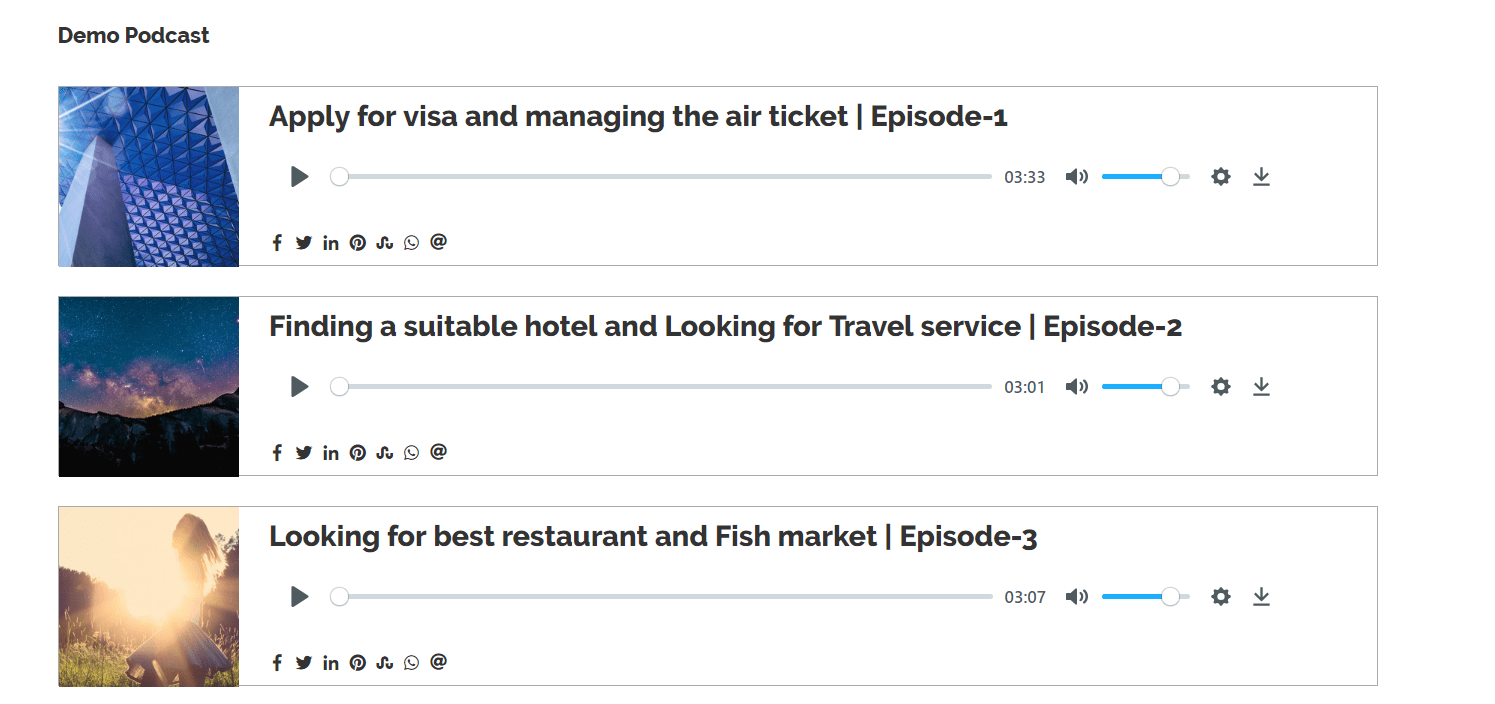 Key Features
A beginner-friendly plugin that comes without any complex setup
Supports a variety of file formats, including mp3, wav, and ogg
WP Podcast is fully-responsive
You can display the media player wherever you want on the website by using the sidebar widget and shortcode
Highly customizable plugin
Social sharing and downloading options
Price
The plugin is completely free to use.


Podlove Podcast Publisher makes it simple for users to create highly engaging, compatible podcast feeds.
This podcasting plugin supports both audio and video podcasts and includes an enhanced HTML5 player for playing your podcasts. The Podlove Web Player supports multiple audio and video formats.
The Publisher also makes it simple to publish chapter information in the player, making it even easier to access structured episodes.
With its Analytics feature, you'll be able to learn things like how many people listened to a single episode, how many people used the web player instead of downloading, which podcasting clients are popular among your target audience, and much more.
The Podlove Podcast Publisher podcasting plugin also includes custom templating, allowing you to create podcast pages that your listeners will love.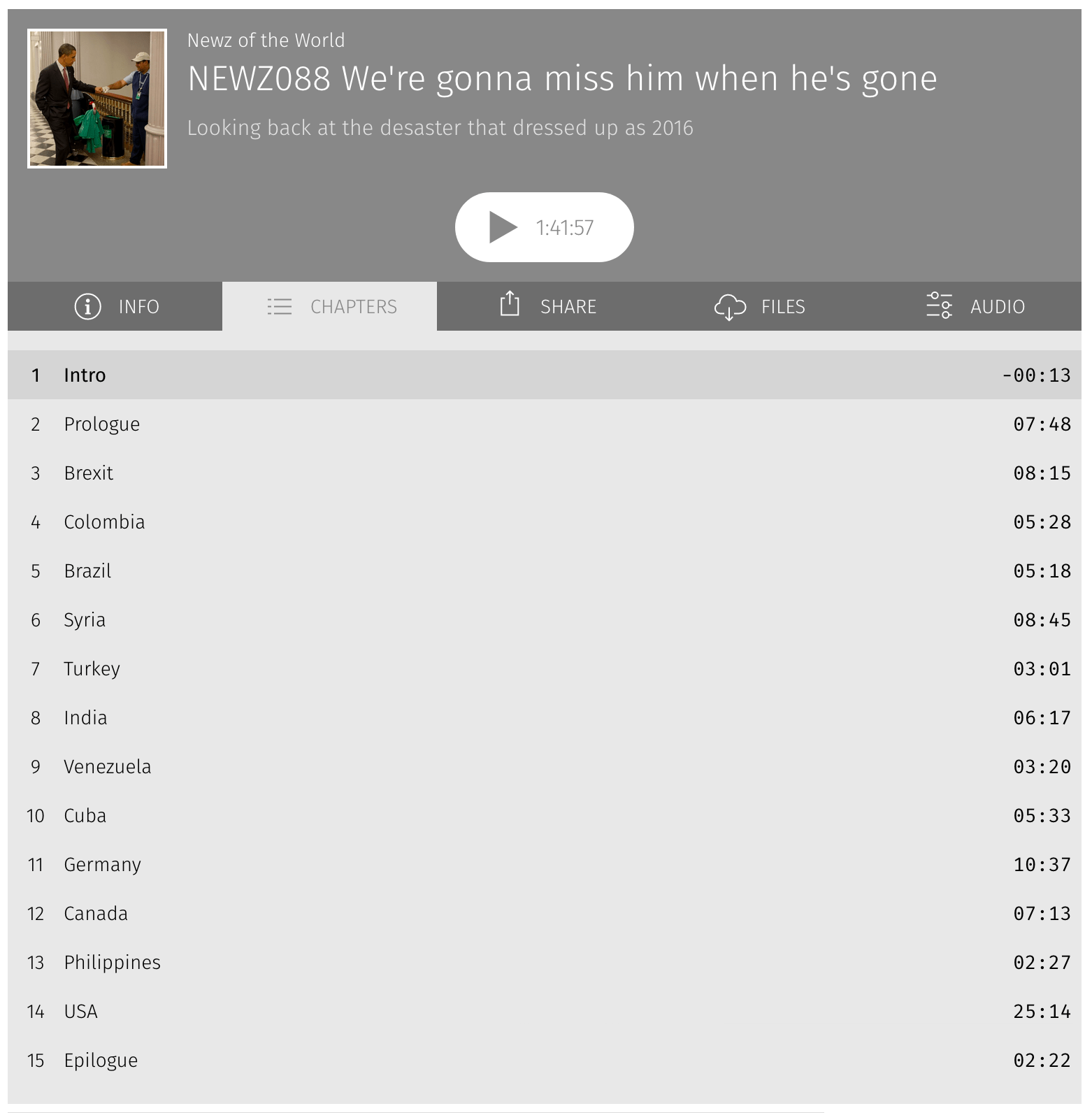 Key Features
Audio and video podcasts are both supported.
Analyses of listeners in details
You can create custom pages, that your users will enjoy using
Improved HTML5 web player
Chapter support to help you structure your podcast
Price
This is a free plugin with no hosting included.


Buzzsprout is a simple and easy-to-use podcast plugin for WordPress sites. It brings your podcast episodes from your Buzzsprout feed URL and gives the option to embed those episodes on your page or post.
All you have to do with Buzzsprout is upload your audio file, and Buzzsprout will optimize the episode for you. You can either publish your podcast episode immediately or schedule it for a specific day and time.
The podcast statistics on Buzzsprout show you total plays over time, what apps listeners are using to listen to your podcast, and where your listeners are from.
You can list your podcast in all the best directories: Apple Podcasts, Spotify, Google Podcasts, Stitcher, iHeartRadio, TuneIn, Alexa, Overcast, PocketCasts, Castro, Castbox, and Podchaser.
Keep in mind that this plugin has not been tested with the most recent three major WordPress releases. It may no longer be maintained or supported, and it may cause compatibility issues with newer versions of WordPress.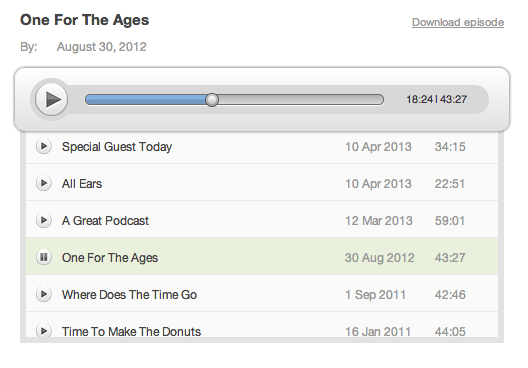 Key Features
Publish your podcast to popular directories such as Apple Podcasts, Spotify, Stitcher, and others.
As files are uploaded, automatically optimize podcast episodes.
The interface is simple and easy to use
Use shortcodes to add anywhere on your WordPress site.
Price
Buzzsprout comes with a free plan that offers 2 upload hours each month. Paid plans start at $12/month and include 3 upload hours each month with unlimited storage. All paid plans include 250GB bandwidth per month.
That brings us to the end of our list of the best WordPress podcast plugins. I hope this post helped decide on a podcast plugin. Which podcast plugin are you going to use? Let us know.
If you found this podcast plugins post useful, then please share it on your social media channels. Please contact us on Facebook or Twitter if you have any questions or suggestions. Also, for plugin tutorials and guide videos, please subscribe to our YouTube channel.
You may also like:
5 Best WordPress Security Plugins for Your Website (2021)